Happy Monday! Sorry for not posting my menu for last week. I've been in a cooking rut, so it was a fly by the seat of my pants week. This week I'm Guest Chef over on
Cooking for your Family
, so I thought I'd set a good example and have a menu set.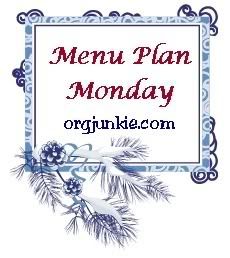 Hubby is off for 3 days in a row, this week. A super rare occurence. So I'm hoping to get one night off from cooking and maybe even a chance to sleep in (fingers crossed). So I'm planning some favorites and trying 2 new recipes this week, in hopes of getting back into the cooking mood.
Head on over to OrgJunkie.com for more great meal plans for the week.