Wow, where has the month of January gone?? Time seems to be going by, faster, every year. We have a busy month ahead of us, with Hubby's, Mr.B's and my Mom's birthdays. Of course we can't forget Valentine's Day. I wonder if Hubby will work it this year. Being in the restaurant business, many 'holidays' go by without Hubby at home.
I hope you all had a great weekend. Ours was quiet and went by way too fast. Especially with me helping Hubby with his latest cake order
.(Pictures of this and other of Hubby's cake can be found on my FB page)
The result was phenomenal, as usual; and he walked out of the party with 4 more orders. I see this his dream slowly taking off and am both excited and scared at the same time, LOL.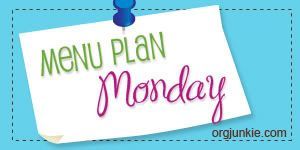 This week will be quiet, with Mr.B at school Monday and Wednesday. Hubby is off at the end of the week and we've made plans to takle making some Asian dumplings together. Most people are surprised how well we work in the kitchen together (most of the time, LOL). So here's our menu for the week
Comfort Casserole, with carrot/ruttabaga mash and steamed broccoli
Vegetarian Chili with pumpkin cornbread (new recipes)
Pork and Shrimp Dumplings (new recipe) with vegetable Lo Mein
Rotissery Style chicken, mashed potatoes and butternut squash
Hot dogs, Mac'n'Cheese and peas
Tacos with all the fixins and bacon pepper squash
Head on over to OrgJunkie.com, for tons of other great meal plans for the week!