What, meat and potatoes in a burger? That's what I though, when I first read the title of this recipe. It caught my attention and I just had to read what these were. When I saw that they were mashed potato topped burgers, I knew I had to make them. We are super crazy about mashed potatoes in this house. Creamy, salty goodness, LOL. One thing I can say about Rachael Ray, is that she sure knows how to name her recipes!
These were really good. And that's saying a lot, since I really do not like hamburgers. But I tried these and I loved it. The way the potatoes blended with the meat and mustard, was so delicious. I think that's why I liked them so much. It wasn't just a big hunk of meat, slapped between some bread. It had that creamy salty goodness, to diminish the meaty patty. My nephew went nuts for these. He could eat mashed potatoes and burgers everyday, so this was pretty much his dream dinner, LOL. Hubby said they were good, but he prefers straight up hunks of beef, between bread. I guess you just can't change so people. For some reason, I couldn't find any watercrest, so used some arugula that I had in the fridge.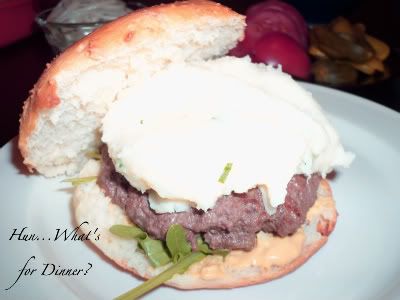 Meat and Potato Burgers
Adapted From Rachael Ray
2 large baking potatoes, peeled and cut into chunks
1 tablespoon butter
A splash of whole milk or half and half
1 egg
A couple of tablespoons snipped chives
Salt and pepper
2 pounds lean ground sirloin
2 tablespoons Worcestershire sauce, eyeball it
1/4 cup flat leaf parsley leaves, a generous handful, finely chopped
1 small onion, peeled
2 tablespoons EVOO – Extra Virgin Olive Oil
4 poppy seed or plain Kaiser rolls
Dijon mustard
1 bunch watercress, cleaned and trimmed of thick stems
Place the potatoes in a sauce pot and cover by one inch with water. Place it over high heat and bring up to a bubble, add some salt and boil the potatoes until tender, 12 minutes. Turn off heat. Drain and return the potatoes to the pot and let them sit for a minute to dry out. Add the butter and milk or half and half – just a splash. Beat egg and add and mash with potato masher or fork. Add in chives and salt and pepper and continue to mash to fairly smooth consistency. Preheat broiler.
While potatoes are cooking, start on the burgers. In a bowl, combine the sirloin, Worcestershire, parsley and about 2-3 tablespoons of grated onion. Wrap up remainder of the onion and save for another use. Season the meat with salt and pepper and mix to combine. Score the meat with the side of your hand and score 4 equal portions. Form the patties making them about 1 inch thick and press a light indentation in the center of each burger. This dent will prevent the burger from bulging and will promote more even cooking.
Preheat a large skillet over medium high heat with 2 turns of the pan of EVOO, about 2 tablespoons. Once the oil ripples, add the patties and cook on each side for 7-8 minutes for rare to medium rare, 11-12 minutes for medium to medium well doneness, turning once.
While the burgers are working, split the buns and lightly toast under the broiler.
To build your burger, slather the bun bottoms with Dijon mustard, top with watercress, burgers and a pile of mashers on top of burgers. The mashers will be the glue to hold bun tops in place.
4 Servings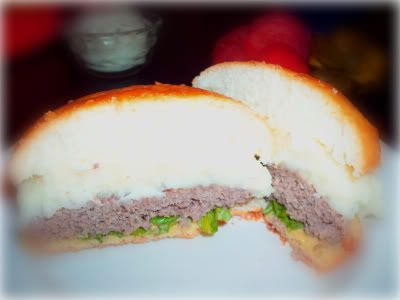 Reminder: There's still time to enter my 100 Followers Giveaway!! The giveaway closes at 10 pm, Sunday Jan 23rd.
**GIVEAWAY IS NOW CLOSED**
This post linked to
Saturdays with Rachael Ray
Weekend Wrap Up
Saturday Night Special
Potluck Sunday
Recipe Swap Sundays