I came up with this yummy recipe the other week, while browsing in my cupboard. There sat an opened box of bacon flavored crackers, from the holidays. I thought to myself that they'd taste mighty fine crushed up on some chicken, so I started from there. All I can say it that it tasted really yummy, LOL. I almost wanted to say it had a hint of KFC, in the back ground.... very odd. The chicken was tender with a slight smoky nuttiness. I served our with ranch and ceasar dressing, to dip in.The kids went crazy for them and they each ate almost a whole chicken breast. That's a total keeper in my books!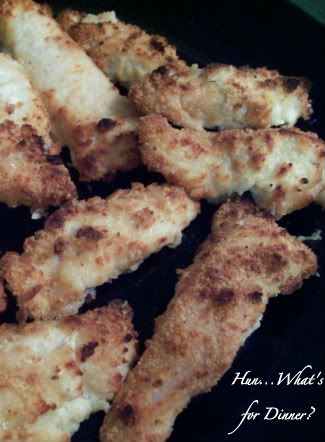 Smokey Parmesan Chicken Strips

1 C crushed bacon flavored crackers (such as Bacon Dippers)
1/2 C Parmesan cheese
1/2 tsp garlic powder
1/4 tsp salt and pepper
1/2 C flour
1 egg, beaten
4 boneless skinless chicken breasts, cut into strips
In a shallow dish mix together crushed crackers, Parmesan, garlic powder, salt and pepper. In 2 other separate dishes place the flour and beaten egg. Dip chicken strips in flour, shaking off the excess. Then dip strips in egg and finally in cracker/cheese crumbs. Place on a cookie sheet, that has been sprayed with cooking spray and bake at 375 for about 20-30 minutes, until chicken is cooked through.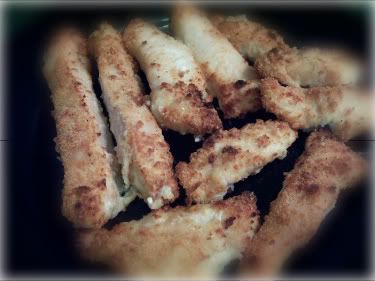 This post linked to