What a crazy week so far. My parents called late Sunday night, to ask if they could come for a few days. They arrived Monday afternoon and we've been non stop, until just now. They left a few hours ago and I miss them already....
This is a great twist on lasagna. Even though these probably take the same amount of time as a regular lasagna, there is something about individual rolls that I prefer. I'm also very fond of vegetable lasagna, so use this method as a perfect excuse to make a meat free meal. It's also a great way to use up veggies from your fridge, or a leftover veggie tray from a party. Still hearty, but without all the calories.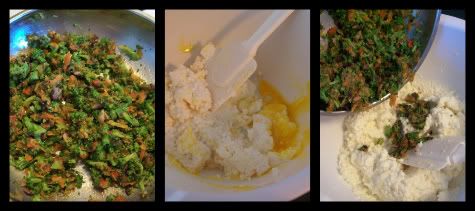 In a large skillet, saute vegetables in oil, until tender crisp. In a large bowl, combine ricotta, half the mozzarella and half the parmesan and egg. Add in the cooked vegetables and stir thouroughly.
Lay cooked noodles flat and spread with 2 Tbs of filling. Roll up, starting from the narrow end and place in casserole dish. Cover with marinara sauce and remaining cheese. Cover with foil and bake at 375, for 45 minutes. Remove foil and bake for an additional 10-15 minutes. Let stand 10 minutes, before serving. (Full recipe to follow)
Vegetable Lasagna Roll-ups

1 8 oz container of light Ricotta
2 C mozzarella cheese, divided
1/2 Parmesan cheese, divided
1 egg
3 Tbs olive oil
1 large carrot, grated
1/2 small onion, grated
1 clove garlic, minced
8 oz button mushrooms, cleaned and chopped
1 roasted red pepper, patted dry and chopped
1 small head of broccoli, chopped
salt and pepper
12 lasagna noodles, cooked to al dente
3 C of your favorite Marinara sauce
In a large skillet, saute mushrooms, onion and garlic, until mushrooms begin to brown. Add in carrot, roasted red pepper, broccoli, salt and pepper. Continue cooking, stirring occasionally, until broccoli becomes tender crisp.
While the vegetables are cooking, boil noodles in salted water until al dente. Drain and let cool. In a large bowl combine ricotta, egg, 1C mozzarella, 1/4C Parmesan, a pinch of salt and pepper. Add in cooked vegetable and stir until well combined.
Lay noodles flat and spread about 2 Tbs of filling onto each noodle. Roll up, starting at the narrow end and place seam side down into a casserole dish. Repeat with all noodles. Top rolls with marinara sauce and sprinkle with remaining cup of mozzarella and 1/4C Parmesan. Bake, covered, in a 375 degree oven for 45 minutes. Remove foil and bake for an additional 10-15 minutes. Remove from oven and let stand 10 minutes before serving.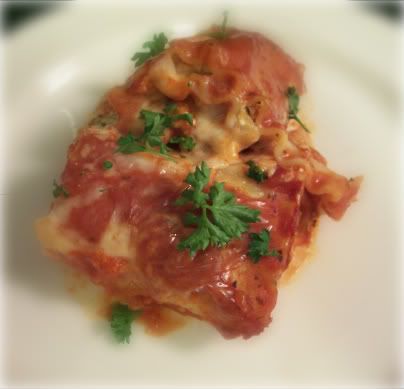 This post linked to