Just when I vow to cut out sweets and start eating healthier, a recipe like this comes along. A convenient yummy way of making cake in 3-5 minutes? Surely you jest!! I simply had to try it, to see if it really was as good as everyone was claiming it was.
Well, they certainly were right. It's a pretty good cake. Slightly chewy, not too sweet and perfect for those last minute cake craving. What I like about it, is that it only makes one serving
(OK a large one, but if you're going to indulge, go big right??)
. The one thing I don't like about it, is that I now know there is a way to have cake in a small amount of time, when ever I want it. That can be seriously dangerous for me, LOL.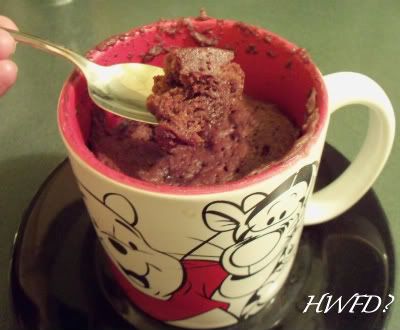 The first time I made it, I used apple sauce
(I just can't justify using a whole egg in such a small amount of cake)
and I used some coffee that DH had brewed that morning, instead of the milk and vanilla. It was really good. The second time I made it, I subbed in some almond extract, for the vanilla and used 2 Tbs whole wheat flour, for the white. I also popped it out onto a plate, drizzled it with chocolate syrup and sprinkled with powdered sugar. That one was even better than the first one, LOL. I think this would be the perfect little treat to snuggle up with your honey on Valentine's Day.
3 to 5 Minute Chocolate Mug Cake
Submitted by Amy on Baby Center
printable version

1 coffee mug (use a big honkin one)
4 T. plain flour
5T. sugar
dash of salt
dash of baking powder
2 T. baking cocoa
4 T. apple sauce (or 1 egg)
4 T. milk
3 T. oil
splash vanilla.
Combine dry ingredients well. Add apple sauce, milk, oil and vanilla and mix thoroughly. Microwave for 3 minutes for regular wheat flour. I had to go 4 minutes using the wheat flour. Eat in the mug or pop out onto plate and enjoy!
This post linked to