Good morning! As most of Northern U.S and us here in Middle/Southern Ontario are expecting some snow in the next few days, I thought I'd share a great comforting meal, to warm our bellies. We're due to receive 7-9 inches of snow on Wednesday. On days like these, I love to make something warm and hearty, to warm our bellies (and maybe even our spirits, LOL).
I found this recipe in the latest issue of Canadian Living. I really am a food mag junkie and have to refrain from buying them, every time I'm in a check out line somewhere, LOL. This recipe sounded wonderful, just by reading the title. What made me even happier, is that it uses everyday ingredients, found in any one's pantry. (I'm not really big on buying specific ingredients for a recipe, not knowing if I'll ever use that ingredient again.)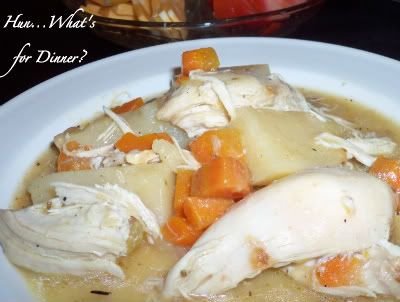 This is really like a chicken stew. The broth thickens nicely and coats the potatoes, chicken and carrots. We've never had marjoram in this house, so I subbed in some oregano ( in a previous recipe I had read somewhere, it called for marjoram OR oregano, so I knew it would work well). The flavor was subtle and paired perfectly with everything. I'm really starting to realize that rosemary and chicken are meant to be together, LOL. I also used 2 bone-in, skin-on chicken breasts, which I skinned and shredded up, before adding the thickening agent.
Braised Chicken and Potatoes

Adapted from Canadian Living Magazine
printable version
1tsp dried marjoram
3/4 tsp salt
1/2 tsp dried Rosemary
1/2 tsp pepper
8 bone-in skin-on chicken thighs
1 Tbs vegetable oil
1 onion, chopped
2 cloves garlic, minced
2 carrots, diagonally sliced
2 ribs celery, diagonally sliced
3 red potatoes, cut into eighths (about 1lb)
1 bay leaf
1 1/2 C chicken broth
1/4 C flour
2 Tbs fresh parsley
Mix together marjoram, Rosemary , salt and pepper; sprinkle 1 1/2 tsp over chicken. In a large skillet, heat oil over medium high heat; brown chicken, in batches if needed. Transfer to slow cooker.
Drain fat from skillet. Add onion, garlic, carrots, celery and remaining spices to pan; cook over medium heat, stirring occasionally, until onion is softened, about 5 mins. Add to slow cooker along with potatoes and bay leaf. Add broth to skillet, scraping up browned bits; pour into slow cooker and stir to combine. Cover and cook on low until juices run clear when juices run clear when chicken is pierced, about 4 hrs.
Skim off fat. Mix chicken mixture to 1 side of slow cooker. Whisk flour with 1/3 C water; stir into liquid in slow cooker, gently redistributing ingredients. Cover and cook on high until thickened, about 15 minutes. Discard bay leaf and sprinkle with parsley.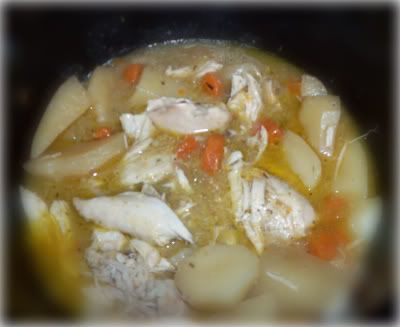 This post linked to