One of my favorite ways to use leftover chicken, is in chicken pot pie. The creamy filling, paired with savory crust makes my mouth water and my tummy grumble. I seem to prefer pot pies with biscuit crusts, better than pie crust. It seems heartier, more complete.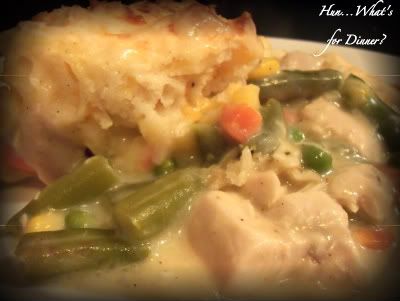 This time I decided to go completely from scratch. No cream of____ soup or packaged biscuit mix this time. I am in no means against using these things and many of my favorite dishes include such ingredients, but sometimes I just like to make everything from scratch; from start to end.
The filling was creamy with subtle hints of herbs. The crust was fluffy and savory, due to the cheddar. A perfect pairing. The kids really loved this, though I still cannot get them to understand that they should eat the whole green bean, not just the tiny beans inside, LOL.
Chicken Pot Pie with Cheddar Biscuit Crust
printable version
2 Tbs olive oil
1/2 large onion, chopped
1 large carrot, sliced into rounds
1 C frozen corn
1 C frozen green beans
1/2 C frozen peas
2 C diced cooked chicken
1/2 tsp ground rosemary
1/2 tsp thyme
1/4 tsp sage
salt and pepper
3 Tbs flour
1 C milk
1 C chicken broth or stock
Crust:
2 C flour
1 Tbs baking powder
1/2 tsp salt
1/3 C butter
3/4 C milk (more if needed)
1 C grated sharp cheddar cheese
In a large non stick skillet, heat oil over medium heat. Add onion and carrot, cooking until carrots begin to soften. Add chicken, frozen corn, beans, peas, rosemary, thyme, sage, salt and pepper. Continue cooking, until frozen vegetables have thawed. Sprinkle with flour and stir to combine. Cook for 1 minute and slowly stir in the milk and stock. Bring to a boil and simmer until thickened, about 5 minutes.
In a bowl, combine flour, salt and baking powder. Add cheddar, tossing to coat with flour. Cut in butter, until mixture resembles coarse crumbs. Mix in milk, until well combined, adding more if too dry.
Pour filling into a 6-qt casserole dish. Top with dollops of biscuit dough, slightly spreading it around the dish. Bake in a 375 degree oven for 30-45 minutes, until top is nice and golden brown.
This post linked to