A few weeks ago, I was lucky enough to be invited to participate in Full Plate Thursday, a blog hop, over a
Miz Helen's Country Cottage
. While there, I browsed Miz Helen's recipes and came upon this one. I'm always trying to look for new ways of using ground beef, since it seems to be a favorite of the boys/men in the family. I must admit, that I'd prefer to eat chicken, or no meat at all; but I know that I'd have a revolt on my hands if I didn't cook some sort of beef, once in a while.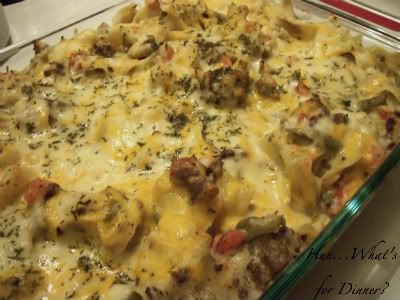 This was really super good. I love that it's a versatile recipe. You can use any type of noodles you like, and any kind of veggies you prefer. I ended up going with egg noodles with carrots, red pepper, onion, broccoli and green beans. It was creamy, with a slight tang from the sour cream. I used a nacho blend of cheese, since pepper jack seems non existent in my town. I added a small sprinkle of cayenne, to help kick it up a tad.The kids just gobbled it up, as did Hubby and my nephew. By lunch the next day, it was gone and tummies were full and happy. Thanks to Miz Helen, I've found another recipe to satisfy the carnivores in the family, LOL.
Comfort Casserole
Adapted from Miz Helen's Kitchen
1 pound cooked ground chuck or 2 cups cooked chicken medium chop
1 medium onion chopped fine
1 6 oz. package noodles cooked according to directions and drained
1 16 oz can cream of mushroom soup
1 16 oz can cream of chicken soup
1 1/2 cups sour cream
1 package frozen mixed vegetables cooked and drained
2 cups shredded pepper jack cheese
2 teaspoons parsley
1 teaspoon garlic powder
salt and pepper to taste
This casserole freezes well
I like to keep packages of cooked chicken and cooked chuck in the freezer for these times when I may be in a hurry to prepare a dish.
If you are preparing from the beginning:
Brown the chicken or chuck with the chopped onion until cooked through and drain.. Mix the soups with the soup cream then add to the chicken or beef. Cook the frozen vegetables and noodles and drain well then add them to the mix along with the cheese. Stir in the parsley, garlic powder, salt and pepper.
Pour into a 9 X 13 casserole dish I will sometimes use a foil pan that can be thrown away after using. That way the family doesn't have to worry with returning a casserole dish.
Bake 350 degrees for 30 minutes
This post linked to