Happy Monday and Happy Family Day! Yes that's right, it's family day here in Canada today. Unfortunately Hubby being in the restaurant/family entertainment business, means he is working today. Regardless, I'll enjoy spending time with Mr.B and Queenie. I just wish Hubby could do the same.
Our weekend was wonderful. Mr.B celebrated his 6th birthday, Sunday. We had some of his school friends over, took them sledding and came home to pizza, hot chocolate and a Triceratops cake. Hubby really outdid himself this time. My girlfriend couldn't believe Hubby had made the cake; she was sure we were pulling her leg. Everyone had a great time and we were all worn out by the end of the day, LOL.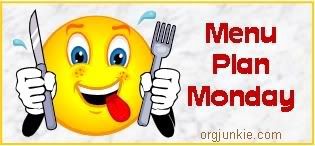 Hubby's birthday is this Thursday, but once again he is working. So we are celebrating this weekend, with his Mom and sister. Our great friend Janice will be coming by on Thursday, for dinner with me and the kids. Hopefully Hubby will come home early enough and she can wish him a Happy Birthday. Here's what I have planned for this week of celebrations.
Mon-
Salmon Patties
with oven roast potatoes and peas
Tues- Spaghetti and
Meatballs
with a salad
Wed- Calzones with tomatoes and cucumber slices
Thur- Shrimp Alfredo Pasta with a salad
Fri- Spinach Artichoke Pasta (new recipe) with
bread sticks
Sat- Roast Beef with potatoes, carrot and rutabaga mash and butternut squash gratin (new recipe)
Sun- Burgers, fries and corn on the cob
Head on over to
OrgJunkie.com
for more great meal plans!