Good morning! I hope you all had a nice weekend. Ours was fun. It was so mild yesterday, that the kids and I spent a good chunk of the day sledding at the park near our house. It was fun, but the best part was the hot chocolate and marshmallows, afterwards, LOL.
Mr.B is back to school after being off for 5 days, due to snow. I'm keeping my fingers crossed that we have no storms this week. We did work on sight words and writing numbers, so it wasn't wasted snow days.
This week should be somewhat quiet. Mr.B has a Dr's appt, during which I hope to get a referral to an ENT. He has been having sinus issues for too long and even his teachers are concerned about it. So well see if he needs his adenoids taken out, or if it's just a speech thing.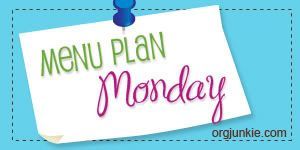 I still haven't finished my grocery shopping, so today and tomorrow will be freezer/pantry meals. I'm hoping to get it done Wed (fingers crossed). So here's what we're eating this week.
Head on over to OrgJunkie.com for other great meal plans for the week!
~~~~~~~~~~~~~~~~~~~~~~~~~~~~~~~~~~~~~~~~~~~~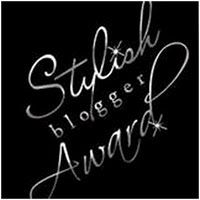 I just wanted to say Thank you to Natasha, from MMMM Home Cooking, for giving me the Stylish Blogger Award. As recipient of this award, I am asked to share some things about myself. I am also required to pick 15 other blogs, who I think deserve this award. I may not be able to pick 15 blogs, but I'll try, LOL.


Now, what can I share with you

1. I am a Canadian food blogger. I grew up in Northern Ontario, but now live in Central Ontario (near Toronto).

2. I've lived a very sheltered life, as Hubby would say. I've never been to a foreign country, never ridden a horse and I experience my first concert, 2 yrs ago.

3. I'm a HUGE Celine Dion fan. That's the first concert I've been to and I cried the whole time. Her song My Love has special meaning to me (living with a chronic illness).
4. I love sweets. If I could eat them all day and not gain weight I would.
5. One of my favorite beverages is water. A nice tall glass of ice cold water hits the spot every time.
6. I'm not really good at thinking of interesting things to tell you, LOL.
Now onto some award worthy blogs
1. One of my favorite blogs is Brenda's Canadian Kitchen. Not only because she's practically my neighbor (she lives in the next major city over), but we have very similar tastes in food. Must be a Canadian thing, LOL.
2. Michelle (also a CFYF member) at Ms.en Place is an entertaining and funny food blogger. I love her stories about her Acadian roots and her Cajun recipes.
3. I met Amy at Amy's WFD Blog on Cooking for your Family. I'm always amazed at how she cooks so many new recipes for her family every night.
4. Mommy's Kitchen always has real good down home cooking, which I think is essential. Who has time to cook gourmet everyday??
5.Kid Appeal focuses on kids eating healthy, which I think is essential for the next generation.
6. Jamie Cooks it Up! Have you seen the naughty pictures on this sight. So YUMMY!!
7. Recipes Straight from the Kowboys Home, all family tested and kid approved recipes.
8. The Sisters Cafe. I fell in love with this one, the first time I found it. So many different kinds of recipes.