Since it's been snowy and cold here this week, I had a lot of comfort foods on the menu. When I think of a comfort side to soups, stews or chili, I think of some sort of bread. Dipping the bread into the bowl, sopping up every last bit of goodness from the bottom.
I had seen this recipe for pumpkin cornbread on
Cooking for your Family
. One of our new posters (Junquegirl) is vegetarian and she shares great recipes full of vegetables and new twists on old favorites. Which was the case with this corn bread. And I'll take the chance to add hidden veggies, or fruits in anything.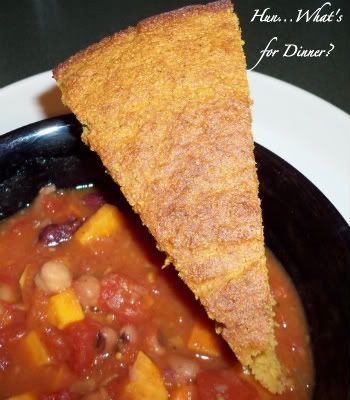 All I have to say is that this cornbread is dangerous. Just the smell while it was cooking, was making me so hungry. I just love the smell of molasses and cinnamon, combined together. It's just a warm and homey smell, that makes me want to snuggle up, in front of a fire and read a good book.
The smell did not disappoint. The cornbread was moist, sweet and comforting. I was tempted to say it was almost dessert like. I really loved the texture, combined with the sweet warm spices. Paired with chili, it was perfect. Sweet countering the slight spicy-ness. The kids didn't want to try it at first. They both sniffed at it and preferred to just have the chili. After seeing me and my nephew devour the bread and comment on how good it was, they both decided to try it. Queenie ended up having 2 pieces, while Mr.B had 1.
I really urge you to try this variation of an old favorite comfort food. It will not disappoint!
PUMPKIN CORNBREAD
Adapted from Recipes from the Old Mill: Baking with Whole Grains
printable version

½ cup all-purpose flour
½ cup whole wheat flour
1 Tbs baking powder
1 tsp salt
½ tsp ground cinnamon
¼ tsp ground nutmeg
1 cup cornmeal
2 large eggs
1 cup pumpkin puree (canned or freshly cooked and processed)
2/3 cup brown sugar
¼ cup canola oil
1 Tbs molasses
1. Preheat oven to 400°F. Grease 10-inch glass pie pan or 9-inch square baking pan.
2. Sift flours, baking powder, salt and spices in a large mixing bowl. Whisk in cornmeal.
3. In separate bowl, beat eggs lightly. Whisk in pumpkin, brown sugar, oil and molasses.
4. Make a well in the dry mixture. Add pumpkin mixture and blend batter with a few quick strokes (just until blended- don't overmix).
5. Pour batter into prepared pan. Bake for 30 minutes, or until cornbread is browned and the surface has a slightly springy feel.
Servings: 8-12 slices
Cooking Tips
*We like to use Bob's Red Mill coarse grain corn meal for an added crunchy texture.
**Terrific with chili!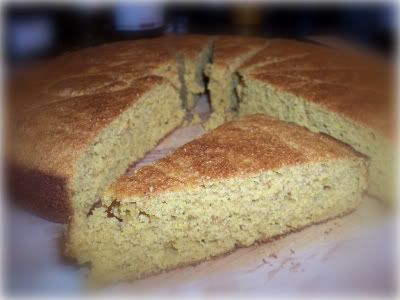 This post linked to