Hun...What's for Dinner is going Asian! Both Hubby and I love Asian food, but we seldom cook it at home. When I received the latest issue of Taste of Home, and saw these dumplings, I asked Hubby if he'd like to make them with me. People are often surprised when they see us in the kitchen together. They figure, since he's a Chef, Hubby and I wouldn't work well together. Maybe it's because we have worked in the same restaurant, or because we love each other so well; we just seem to mesh in the kitchen. We both play up to our strengths and can turn out wonderful meals.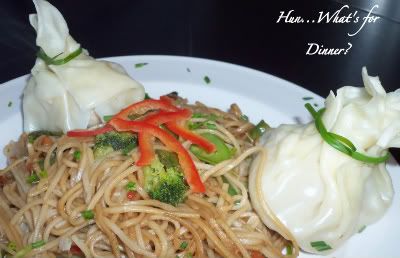 As was the case with the dumplings. I'm sure they aren't authentic Asian dumplings, but we enjoyed them. I do have to say that by themselves they were just OK, but with the dipping sauce; they were great! I think what I enjoyed the most was the fact that you could taste the shrimp, but it wasn't the dominant flavor. I would have added more ginger and green onion to the filling though. And I just recently realized that we had used egg roll wrappers, rather than wonton wrappers. I was wondering to myself (as we were making them) how they got 50 dumplings; when all we managed was 17, LOL. Now I know.
Steamed Pork and Shrimp Dumplings

Adapted from Taste of Home
printable version

1 pound boneless pork loin chops, cut up
1/2 pound uncooked medium shrimp, peeled and deveined
10 whole water chestnuts
2 tablespoons cornstarch
1 green onion, chopped
2 tablespoons rice vinegar
1 teaspoon minced fresh ginger root
1 tablespoon sesame oil
1 tablespoon sherry or chicken broth
1 tablespoon reduced-sodium soy sauce
1 package (12 ounces) wonton wrappers
12 romaine leaves
DIPPING SAUCE:

1/4 cup reduced-sodium soy sauce
1-1/2 teaspoons finely chopped green onion
1/2 teaspoon sesame oil
Place the first 10 ingredients in a food processor; cover and process
until finely chopped.
Place 2 teaspoons pork mixture in the center of a wonton wrapper.(Keep remaining wrappers covered with a damp paper towel until readyto use.) Moisten edges with water. Bring corners of wonton wrapper over filling and twist to form a bundle; pinch edges to seal.Repeat.
Line a steamer basket with three lettuce leaves. Arrange a fourth of the dumplings 1 in. apart over lettuce; place in a large saucepan over 1 in. of water. Bring to a boil; cover and steam for 10-12minutes or until a meat thermometer reads 160°. Discard lettuce. Repeat. Combine the sauce ingredients; serve with hot dumplings.
Yield: 52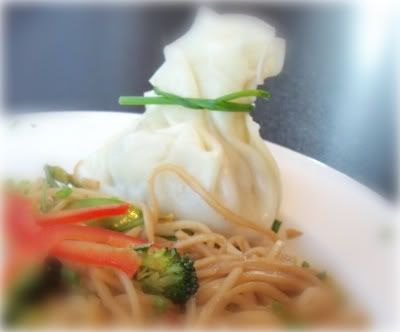 This post linked to