Happy Valentine's Day!!! We have a super special week ahead of us. Today is Valentine's Day, so everyone is all googly eyed and lovey dovey, LOL. Then on Sunday, it will be Mr.B's 6th birthday. I can't believe it will be six years since I first laid eyes on him and he stole my heart!! He's growing up too fast, which is only being re enforced by him taking his Senior Kindergarten graduation pictures today. I'm feeling a little sentimental thinking about him becoming a BIG boy.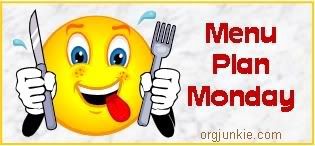 I have a few new recipes planned for the week, but I'm not sure how it will go. Hubby has a super busy week at work, which means he'll be leaving early and coming home late. So I'll be single parenting a lot this week. Which can wear you down fast, LOL. So here is the tentative plan, but it's not set in stone.
Fish nuggets(new recipe) with baked potatoes and corn on the cob
Peameal bacon sandwiches on homemade buns with potato salad
Bacon Pasta with peas
Asian pork chops with PB noodles (new recipes)
Roast beef with mashed potatoes, carrot/ruttabaga mash and pepper squash
Make your own pizzas with a fruit tray and Birthday cake (Sunday is Mr.B's 6th birthday!!) for Mr.B's party
leftovers
Head on over to OrgJunkie.com, for more great meal plans for the week.