Soup, is there anything better on a cold miserable day? Not in my book. This winter has been exceptionally difficult this year. We've had weeks of non stop blizzards, and more snow days that I can remember. So when I'm stuck in the house, trying to stay warm and keep my spirits up, during winters best; I turn to soup. It's one of my favorite things to eat.
Growing up, for the whole 40 days of Lent, we would have soup on Fridays. Since we couldn't eat meat, my Mom would make the same soups, every Friday. I say soups, because she would make pea soup, for herself and my Dad and corn soup for my siblings and I. I think this was the only time in my life that I hated soup. The pea soup looked weird, so none of that for me. The corn soup wasn't much better. (Sorry Mom!) The way I recall it is, cans of creamed corn mixed with water and rice. Not my ideal bowl of soup.
Don't get me wrong, my Mom made wonderful soups. Tomato noodle, cabbage soup.... all were tops in my book. I'm really not sure why she kept going back to our Lenten soups of choice.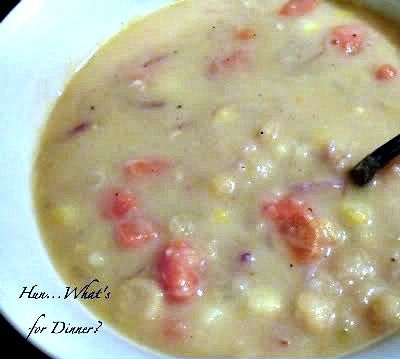 When I first saw this recipe, I was a bit apprehensive. After all, it is a pea soup. It not being green, greatly improved it's appeal and ham sealed the deal, LOL. You know, for a pea soup, it's really tasty. Even Hubby, who hates peas with great passion, will eat this soup. It's creamy, a bit tart, sweet and salty. On occasion, if I have a ham bone in the freezer, I make ham stock and replace the chicken stock with that. Either way, it's a keeper.
Winter Warm-up Soup
Adapted from Readers Digest
printable version
1C dried yellow split peas
3C chicken broth
1/2C chopped onion
1C each: corn, carrots (chopped) and ham (cooked and cubed)
2C milk
salt and pepper to taste
Boil peas in broth, for 2 minutes. Let stand 1 hr. Bring back to a boil and add ham and vegetables. Simmer 1hr. Add milk and warm through.


This post linked to