I'm always looking for new ways to make chicken. Particularly chicken legs. Legs have been on sale recently, so we bought quite a bit of them. I love breasts, but sometimes you just can beat a nice moist flavorful chicken leg. My friend Amy, from
Amy's WFD
,posted this recipe on
Cooking for your Family
, ages ago. It's one of the many popular recipes on the board. Since I hadn't been able to do groceries and I had all the ingredients needed for these, I gave them a shot.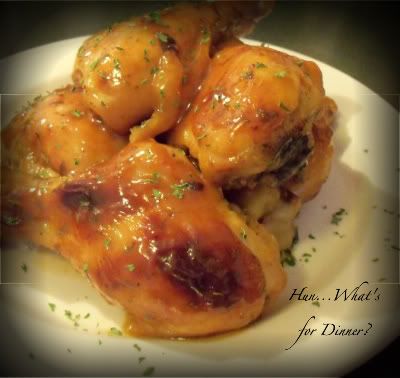 These did not disappoint! They were moist, sticky, sweet and tangy. I really love the subtle bite of mustard, mixed with sweet saltiness. Even the kids liked them, which says a lot, considering Queenie is on a new food strike. I did use Dijon mustard, rather than yellow mustard, to get that unique flavor it provides.
Baked Honey Mustard Chicken
Submitted by Amy
6 skinless, boneless chicken breast halves
salt and pepper to taste
1/2 cup honey
1/2 cup prepared mustard
1 teaspoon dried basil
1 teaspoon paprika
1/2 teaspoon dried parsley
1. Preheat oven to 350 degrees F (175 degrees C).
2. Sprinkle chicken breasts with salt and pepper to taste, and place in a lightly greased 9x13 inch baking dish. In a small bowl, combine the honey, mustard, basil, paprika, and parsley. Mix well. Pour 1/2 of this mixture over the chicken, and brush to cover.
3. Bake in the preheated oven for 30 minutes. Turn chicken pieces over and brush with the remaining 1/2 of the honey mustard mixture. Bake for an additional 10 to 15 minutes, or until chicken is no longer pink and juices run clear. Let cool 10 minutes before serving.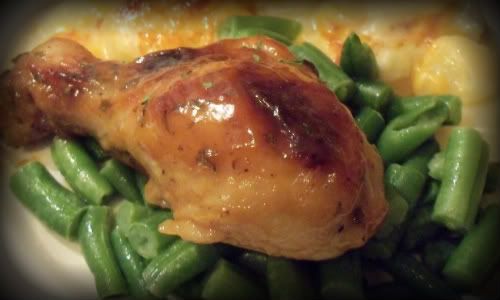 This post linked to