Mr.B and my Dad did a lot of blueberry picking last summer. Well, my Dad did the picking, while Mr.B explored the forest. I think this is one of my favorite perks of living in Northern Ontario. Blueberries grow practically in your back yard. Even though Mr.B didn't pick much, my parents brought us tons of blueberries to tide us over, during the winter months. Nothing like wild blueberries to make waffles, pancakes and cakes even yummier.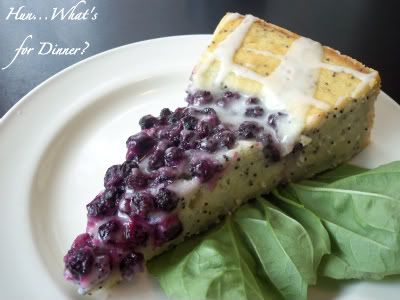 I was going through my recipe files when I found this recipe. I can't remember where I jotted this one down from. It surely isn't my Mom, since this is the first time I've ever had/made it. I was drawn to the blueberry/poppy seed combo. Even more, I was excited I had recently bought poppy seeds, so I could actually make this.
It is a very beautiful cake. You expect it to be light, with all the beating, but it has an almost cream like texture. The outside edge is more cake like, but the inside is dense and tender. I want to say almost like a cheesecake, but then I don't want to give a false impression of the cake. The blueberries pair nicely with the slight citrus taste. It really would be a great addition to any brunch, since it's such a pretty cake.
Blueberry Poppy Seed Brunch Cake
printable version
Cake:
2/3 c. sugar
1/2 c. butter, softened
2 tsp. grated lemon peel
1 egg
1 1/2 c. flour
2 tbsp. poppy seed
1/2 tsp. baking soda
1/4 tsp salt
1/2 c. sour cream
Preheat oven to 350°F.
Grease and flour bottom and sides of 9 or 10 inch spring-form pan. In large bowl, beat 2/3 cup sugar and butter, until light and fluffy. Add lemon peel and egg. Beat 2 minutes at medium speed.
Lightly spoon flour into measuring cup. Level off. In medium bowl, combine 1 1/2 cups flour, poppy seed, baking soda and salt. Add to butter mixture alternately with sour cream. Spread batter over bottom and 1-inch up sides of greased and floured pan, making sure batter on sides is 1/4-inch thick.
Filling:
2 c. fresh or frozen blueberries, thawed, drained on paper towels
1/3 c. sugar
2 tsp. flour
1/4 tsp. nutmeg
In medium bowl, combine all filling ingredients. Spoon over batter.
Bake at 350°F for 45 to 55 minutes or until crust is golden brown. Cool slightly. Remove sides of pan.
Glaze:
1/2 c. powdered sugar
1 to 2 tsp. milk or lemon juice
In small bowl, combine powdered sugar and enough milk until glaze is of desired drizzling consistency. Blend until smooth. Drizzle over top of warm cake. Serve warm or cool.
Makes 8 servings.
Tip:
Greek yogurt would make a great alternative to the sour cream.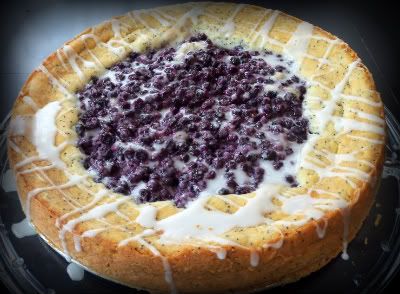 This post is linked to