Lemons, little bundles of versatile goodness. From sweet to savory, lemons seem to fit in almost anywhere. It happens to be one of our favorite dessert flavors. If it's lemon flavor, it doesn't last too long, around here.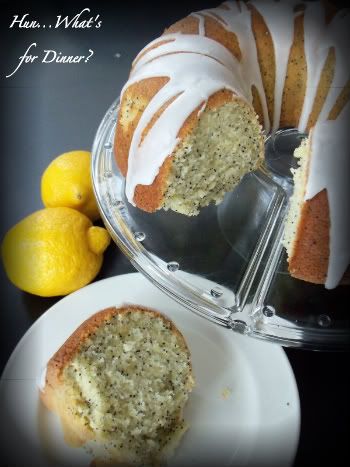 I was so excited to find the dried spices on sale, a few weeks back. That also included sesame and poppy seeds. I quickly snatched some up, since I've always wanted to cook with them. My sister makes lemon poppy seed loaf, every Christmas, to give as gifts. And every Christmas I tell myself, I should make some too. Well I finally bought the poppy seeds, all that was left was making lemon poppy seed something.
Then I remembered bookmarking a recipe for a lemon poppy seed bundt cake in one of my cookbooks. Once I found it, I went to work. Hubby was excited that I was finally making a dessert he likes, LOL. He's not big into muffins, brownies or bars, but add lemon and he's all over it.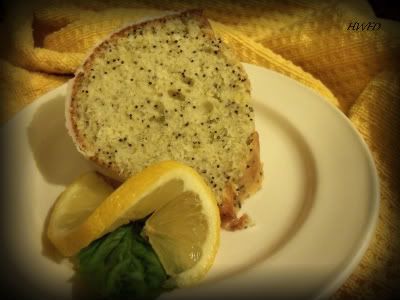 The cake really is good. Moist, sweet and tangy. The glaze is so deliciously lemon-y. Crazy good!! The kids went bonkers for this as well. Queenie requested a second piece, after dinner tonight. I'll be surprised if there is any left in the morning.
Lemon Poppy Seed Pound Cake

Adapted from Land O Lakes Simply Delicious cookbook
printable version

Pound cake recipe with lemon and poppy seed. Lemon lightens and complements the rich, moist flavor of this delicate cake with a citrus glaze.

3 cups all-purpose flour
2 cups sugar
1/4 cup poppy seed
1 cup LAND O LAKES® Butter, softened
1 cup buttermilk**
4 eggs
1/2 teaspoon baking powder
1/2 teaspoon baking soda
1/2 teaspoon salt
4 teaspoons freshly grated lemon peel
1/2 teaspoon vanilla
Glaze
1 cup powdered sugar
1 to 2 tablespoons lemon juice
Heat oven to 325°F. Combine all cake ingredients in large bowl. Beat at low speed, scraping bowl often, just until all ingredients are moistened.
Increase speed to high. Beat, scraping bowl often, until well mixed.
Pour batter into greased and floured 12-cup Bundt® pan or 10-inch tube (angel food cake) pan. Bake for 55 to 65 minutes or until toothpick inserted in center comes out clean. Cool 10 minutes; remove from pan. Cool completely.
Stir together powdered sugar and enough lemon juice in small bowl for desired glazing consistency; drizzle over cooled cake. .
**Substitute 1 tablespoon vinegar or lemon juice plus enough milk to equal 1 cup. Let stand 10 minutes.
This post linked to
Cookbook Sundays
Potluck Sunday
Recipe Swap Sundays