Happy Monday! Boy what a weekend. Can you believe all that is happening in Japan?? It's just so terrible.
Our thoughts and prayers are with everyone affected by this disaster!!

Life has been hectic in this household. Hubby had to complete another cake order Saturday, so I was busy most the day, helping out. So, that meant putting off laundry until Sunday. I'm not a big fan of our new smart electric meters, which charge according to the time of day. It's quite inconvinient for us stay at home moms, since 7am-9pm are peak hours and when they charge the most for electricity. I sure am not going to wake early to do laundry and once the kids are in bed, laundry is the last thing I feel like doing. So, that means cramming a week's worth of laundry in 2 days.... sigh.
OK, enough complaining, LOL. This week is a special one. Not only is it Spring Break for Mr.B, but Sunday is Queenie's 3rd birthday! It's so difficult at times, watching my two babies grow up so fast. We will have a small celebration Sunday and Queenie's actual birthday party on the following Wednesday. Odd I know, but Hubby could not get her birthday off, so we are altering our plans to include him. Well, we pretty much have to, since Queenie has requested he make her a 'blankie' cake. Should be fun!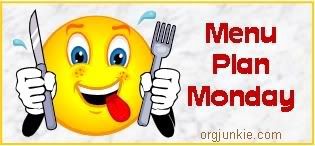 Nothing too adventurous on the menu this week. Of course we'll have traditional eats for St Patty's Day and Queenies favorite meal on Sunday, but the rest of the week should be easy peasy.
Roast Chicken with mashed potatoes and broccoli
Shrimp All'Amatriciana (new recipe) with bread sticks
Corned beef, Calcanon and fried cabbage (St. Patty's Day)
Chick Pea Ratatouille (new recipe) with pita chips
Battered Fish and Chips with corn on the cob (Queenie's Birthday)
leftovers
Other things I'm planning to bake/make
Head on over to OrgJunkie.com for tons of other meal plans for the week!!