Happy Monday! I can't believe that March is already coming to an end. I wish the weather would hurry up and realize it's Spring already. It's been an interesting week, weather wise, with snow and frigid tempuratures. I saw some poor confused Robins flying around wondering why the heck they had returned, LOL.
Last week's menu kind of went out the window. With an emergency trip out of the country, we ate out a few nights. So, I'll be carrying some meals from last week over to this week. But the good news is, as of today, my mother in law has started to walk again. It's slow going, but she's progressing each day. I'm sure seeing the kids helped her motivation to become mobile again and get home. Thanks for all who sent up prayers and good thoughts for her.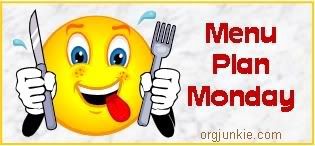 This week Hubby is off mid week. Though it's still freezing out, he's been itching to fire up the grill. Who could blame him, with this beautiful sunshine. I just wish the temps would co-incide with the sun, LOL. So, I may veto one of my planned meals for bugers and dogs on the BBQ. Here's what the plan is suppose to be; in no particular order
Head on over to
OrgJunkie.com
for tons of other meal plans for the week!!