Happy Monday! Boy what a weekend. We started with rain and ended with snow. I sure wish spring would hurry up and get here. The kids had so much fun playing in the snow, while I cleared the driveway, though. I'm just glad the sidewalks were cleared this morning, since it's so much work walking Mr.B to school, if they aren't.
Hubby is off Tues-Wed this week. Surprisingly we have nothing planned for the week; although I do need to call the Dr, for Mr.B. He's had a cold for 3 weeks now, so I think it's time to get him in. Plus his adenoids are inflamed and for some reason we are having a hard time getting an appt with an ENT. I'm sure it has a lot to do with him being so sick and coughing all the time. I'm hoping to get on them to get him an appt soon.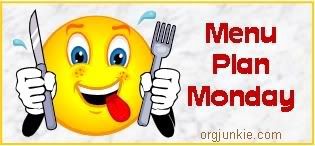 I'm trying a few new recipes this week, using ingredients I've never cooked with before. I also have some recipes that I'm carrying over from last week. I seem to be having a hard time sticking to my meal plans lately, LOL. Must be bad influence from DH and the kids..... So here's what I'm hoping to make this week


Beefy Noodles with peas


Mini Sausage Meatball Minestra (new recipe) with cheddar oat biscuits


Burgers, fries and corn on the cob


Swiss and asparagus stuffed chicken thighs (new recipe) with Parmesan rice


Pork chops with smashed cauliflower and broccoli with cheese


Pancakes with bacon and fruit salad


leftovers
Head on over to OrgJunkie.com, for more great meal plans.