I've really got to say that I'm so happy to have gotten Rachael Ray's new Look & Cook cookbook. This is the 3rd recipe I make so far and they've all been wonderful. Not the usual Rachel though, who likes to fancy up meals with tons of ingredients. These recipes are simple, yet delicious.
I choose this one for Hubby. He really loves Italian Wedding soup and while reading this recipe, I found that it was quite similar. A nice light broth surrounds the bite size meatballs and slightly bitter Kale. I used Kale, since I could not find Escarole anywhere. I figured it was the closest I could find, LOL. I made my own beans by simmering some great northern beans in water, with a touch of bacon grease, until tender.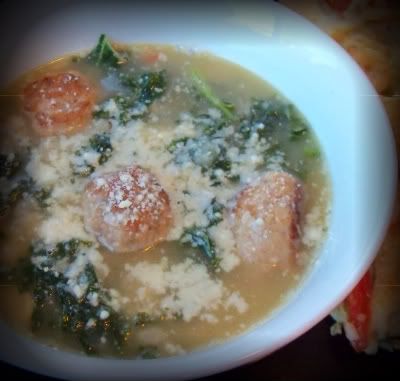 This soup was so wonderful. The beans added a creaminess that cut the bitterness of the kale. The meatballs were tender and flavorful. Topped with Pecorino, it was fantastic. Even the kids ate it, minus the 'green stuff', LOL. I'll surely be making this again, next winter!
Mini Sausage Meatball Minestra
courtesy of Rachael Ray Look & Cook cookbook
printable recipe
3 tablespoons extra virgin olive oil (EVOO), divided
1 1/4 pounds bulk sweet Italian sausage
1 onion, chopped
3-4 cloves garlic, chopped
2 large heads escarole, trimmed, washed and chopped
Salt and pepper
Freshly grated nutmeg
1 can cannellini beans (15 ounces), drained
2 quarts chicken stock
2 cups short cut pasta, such as mini penne or ditalini
Grated Pecorino Romano cheese
Crusty bread, for mopping
Heat 1 tablespoon EVOO in a large skillet. Roll the sausage into walnut-size meatballs. Drop them into the skillet and brown on all sides, then remove.
Heat the remaining 2 tablespoons EVOO in a large pot over medium heat. Sauté the onion and garlic for 5 minutes, then wilt in the escarole and season with salt, pepper and nutmeg. Add the beans and heat through. Stir in the stock and bring to a boil, then add the pasta and cook to al dente. Add the meatballs back to the pot for the last 4 minutes of cooking. Adjust the seasonings and serve with cheese sprinkled heavily on top. Pass the crusty bread for mopping.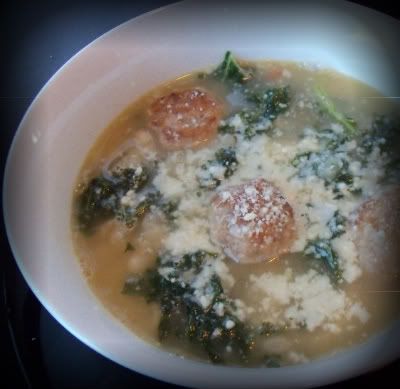 This post linked to