I love browsing recipe sites. Every day I go to several of them and save or bookmark recipes, that I intend to try. Recently, I was browsing my saved recipes and stumbled upon this recipe, from King Arthur Flour. Yes, ANOTHER banana bread recipe! Curious as to why I would save it, I read through it and saw the reason why. It's not your ordinary banana bread.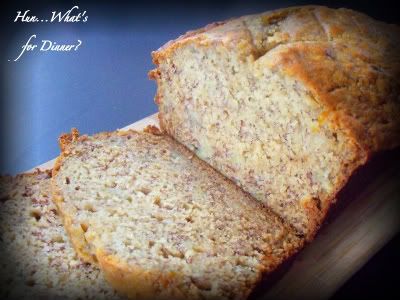 I love recipes that have hidden ingredients. Ingredients that you really can't see, but they add extra pizazz to the end result. This is totally the case with this recipe. Looking at the end result, you could never tell there was Apricot jelly and spices in there. But, then you taste it and you say "Wow, this is really good!" and certainly not your average banana bread.
Moist, sweet, and comfortingly warm. I really loved the flavor the jelly (I added an apricot/passion fruit jelly) and spices added. Once I smelled it baking in the oven, I knew I was done for. The smell just wrapped you up and brought a smile to your face. Not to mention a rumble to your tummy. Everyone loved this bread, which proved true the next day, as I shared the last slice with the kids, LOL. This one is definitely going into my favorite recipe notepad!
Banana Bread
Adapted from King Arthur Flour
printable version
Banana bread is oh-so-simple... yet like many simple recipes, requires a few out of the ordinary ingredients to bring it from potentially boring to memorable. A hint of spice, honey for sweetness and moist texture, and one final touch—a few spoonfuls of jam—distinguish this tasty bread from run-of-the-mill versions.
1/2 cup unsalted butter, at cool room temperature
2/3 cup brown sugar, light or dark, firmly packed
1 teaspoon vanilla extract
1 teaspoon ground cinnamon
1/4 teaspoon ground nutmeg
1 teaspoon baking soda
1 teaspoon baking powder
1 teaspoon salt
1 1/2 cups mashed ripe bananas (about 3 medium or 2 large bananas)
3 tablespoons apricot jam or orange marmalade, optional but tasty
1/4 cup honey
2 large eggs
2 1/4 cups King Arthur Unbleached All-Purpose Flour
1/2 cup chopped walnuts, optional
1) Preheat the oven to 325°F. Lightly grease a 9" x 5" loaf pan.
2) In a large bowl, combine the butter, sugar, vanilla, cinnamon, nutmeg, baking soda, baking powder, and salt, beating till smooth.
3) Add the mashed bananas, jam, honey, and eggs, again beating until smooth.
4) Add the flour, then the walnuts, stirring just until smooth.
5) Spoon the batter into the prepared loaf pan, smoothing the top. Let it rest at room temperature for 10 minutes.
6) Bake the bread for 45 minutes, then gently lay a piece of aluminum foil across the top, to prevent over-browning.
7) Bake for an additional 25 minutes. Remove the bread from the oven; a long toothpick or cake tester inserted into the center should come out clean, with at most a few wet crumbs clinging to it. The tester shouldn't show any sign of uncooked batter. If it does, bake the bread an additional 5 minutes, or until it tests done.
8) Allow the bread to cool for 10 minutes in the pan. Remove it from the pan, and cool it completely on a rack.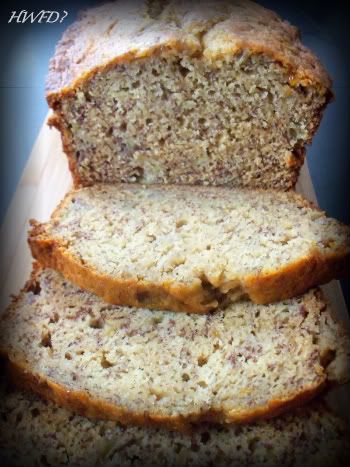 This post linked to