We're big cheese heads in this house. No, I don't mean football, I mean real cheese, LOL. I just love how versatile it is and what a huge variety there is to choose from. We usually stick to our regular cheddar, mozzarella and swiss, but sometimes like to throw in some gruyere, blue or pepper jack. Anytime I see a recipe using cheese, my face lights up. I know.... I'm a geek, LOL.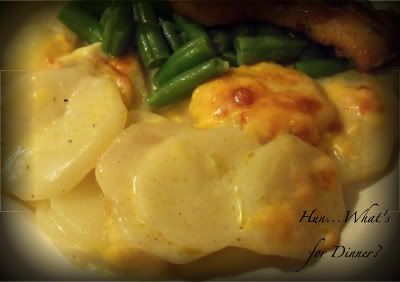 I've made scalloped potatoes before, but have always gotten frustrated, since the potatoes are never cooked, when the recipe says they should be. What drew me to this recipe, is the fact that you boil the potatoes in the cream, before baking them. Let me tell you, it's so much easier this way. No stressing over wether the potatoes will be tender enough, by the time the rest of your dinner is.
These were amazingly good. I know I've said this about other things, but potatoes seem so much better with cheese. Add is a nice creamy texture and it's pure bliss. I really liked the small hint of savory thyme and bay, that mingled with the salty slightly tangy cheese. Cheese being as versatile as it is, you could easily switch one cheese, for another and make a totally different dish, several times over.
Scalloped Potatoes
Adapted from America's Test Kitchen Recipe
printable version

Thinly sliced potatoes layered with cream and baked until they are bubbling and browned are a classic accompaniment to a holiday ham or roast beef. Although the supermarket shelves are lined with "add water, heat, and serve" versions of scalloped potatoes, making them from scratch doesn't have to take much time, and the differences in flavor and texture are tremendous. For the fastest and most consistent results, slice the potatoes in a food processor.
2 tablespoons unsalted butter
1 small onion, minced
2 medium garlic cloves, minced (about 2 teaspoons)
3 cups heavy cream
1 cup whole milk
4 sprigs fresh thyme (subbed 2 tsp dried thyme)
2 bay leaves
2 teaspoons salt
1/2 teaspoon ground black pepper
4 pounds russet potatoes, peeled and cut into 1/8-inch-thick slices
1 cup shredded cheddar cheese (about 4 ounces)
1. Heat oven to 350 degrees. Meanwhile, melt butter in large Dutch oven over medium-high heat until foaming subsides, about 1 minute. Add onion and sauté until it turns soft and begins to brown, about 4 minutes. Add garlic and sauté until fragrant, about 30 seconds. Add cream, milk, thyme, bay leaves, salt, pepper, and potatoes and bring to simmer. Cover, adjusting heat as necessary to maintain light simmer, and cook until potatoes are almost tender (paring knife can be slipped into and out of center of potato slice with some resistance), about 15 minutes.
2. Remove and discard thyme sprigs and bay leaves. Transfer potato mixture to 3-quart gratin dish and sprinkle with cheese. Bake until cream has thickened and is bubbling around sides and top is golden brown, about 20 minutes. Cool for 5 minutes before serving.
Cindy's Notes: I used 2 C of half and half, 1C chicken broth, instead of heavy cream. To thicken, sprinkle 2 tablespoons of flour over the onions and garlic when sautéing. In place of Cheddar, sub Mozzarella and/or Mexican Four Cheese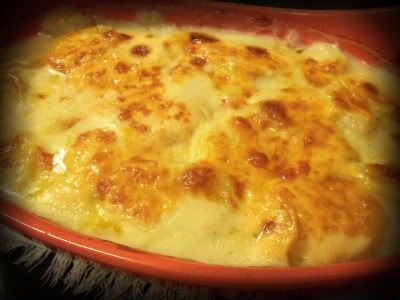 This post linked to