I recently subscribed to Canadian Family Magazine, through Mr.B's school magazine fundraiser. It really is a good magazine and I recommend it, to anyone with children. My favorite part of the magazine, however, is the food section. It gives ideas to help picky eaters, great time saving recipes and in this particular issue, freezable recipes. Since I'm lucky enough, to be a Stay at home Mom, I don't really need freezable recipes. I did want to try these yummy recipes though. So, I simply skipped the freezing part and went straight to the cooking part, of the recipe.
This chicken was super tasty. It had a nice crispy crust, even though I didn't use Panko bread crumbs.
(I still can't find any here and to be honest, I've stopped looking, LOL)
The chicken was juicy with a nice crisp salty crust. I had to make a few substitutions though, since ingredients were used up and not written on the 'need to get' list.
I won't say WHO used them up.... I'll just say they vanished.
So, I ended up using balsamic vinegar and finely grated sharp cheddar. Despite the substitutions, they turned out great and everyone loved them.
Cheesy Chicken
Adapted from Canadian Family Magazine
printable version
2 Tbs Dijon
2 egg
1 tsp white wine vinegar
6 boneless skinless chicken breasts (pounded to an even thickness)
1 C panko bread crumbs
1/2 C finely grated Parmesan cheese
2 tsp dried basil
1/2 tsp pepper
1 Tbs olive oil
Whisk egg, mustard and vinegar in a bowl and add chicken, tossing to coat well. In a shallow dish combine bread crumbs, Parmesan, basil and pepper. Let excess egg mixture drip from the chicken and dredge in bread crumbs, pressing to coat completely.
In a large skillet heat oil over medium heat; add chicken and cook until lightly golden crisp, about 3 minutes per side. (Work in batches if skillet is too small.) Transfer cooked chicken to rack and let cool.
TO FREEZE Place in baking dish and cover with a layer of plastic wrap and aluminum foil; freeze. Prior to serving, defrost in refrigerator overnight.
TO REHEAT Remove wrapping and bake in a preheated 400˚F oven until chicken is crisp, about 10-12 minutes.
Cindy's notes:
Since I had no intention of freezing these, I transfered my oven safe skillet to the oven, and followed the reheat step. I also used balsamic vinegar, sharp cheddar and homemade bread crumbs, instead of those listed in the ingredients.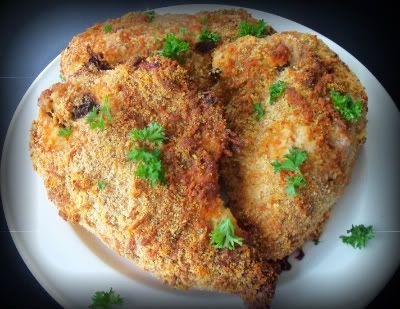 This post linked to