Did you know it was National Grilled Cheese month? Yup, a whole month to celebrate the warm cheesy ooey gooey grilled cheese sandwich. I thought this was the perfect reason to try a killer grilled cheese sandwich, I had seen in Food Network Magazine. As soon as I saw that it contained macaroni and cheese, I knew I had to make it for Hubby and I. The BBQ pulled pork and caramelized onion, only reinforced my need to make it.
Let me tell you, it's quite a sandwich. It was really heavy and I only managed to eat half of mine. That's how monstrous it was. But it was SO GOOD! It was creamy, tangy and a bit sweet. Just writing about it, is making me want one. Definitely a man's sandwich, but too good for anyone to resist.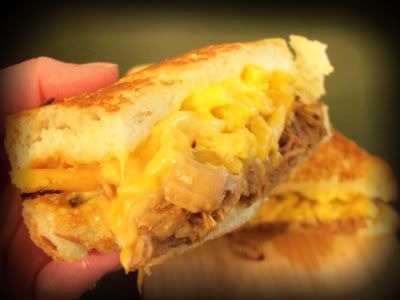 I made my pulled pork in the crock pot and simmered it in my homemade BBQ sauce. Then I thickened some of the sauce to mix back into the pork. For the mac'n'cheese, I used good ole Kraft Dinner. Faster and easier than making my own, although I'm sure this would be super good with my home made
3 Cheese and Bacon Mac
.
Grilled Mac and Cheese with Pulled Pork Sandwiches
CindyJ from Food Network Magazine
printable version
1 stick unsalted butter, softened
6 tablespoons mayonnaise
4 cups prepared macaroni and cheese, warmed
2 onions, thinly sliced Kosher salt and freshly ground pepper
1 cup barbecue sauce
2 cups prepared pulled pork
8 slices buttermilk or white bread
12 slices sharp cheddar cheese (about 6 ounces)
Put 6 tablespoons butter and the mayonnaise in the bowl of a stand mixer; beat with the paddle attachment until combined, scraping down the sides of the bowl as needed. Set aside.
Spread the macaroni and cheese in an 8-inch-square baking dish to about 3/4 inch thick. Cover with plastic wrap and chill until firm, about 45 minutes. Cut the macaroni and cheese into squares that are slightly smaller than the bread slices.
Meanwhile, melt the remaining 2 tablespoons butter in a skillet over medium heat. Add the onions and cook, stirring, until caramelized, about 20 minutes. Season with salt and pepper.
Combine the barbecue sauce and pulled pork in a saucepan over low heat and cook until warmed through, about 5 minutes.
Generously spread the butter-mayonnaise mixture on one side of each bread slice. Flip over half of the bread slices; layer 1 slice of cheddar, 1 macaroni-and-cheese square and another slice of cheddar on each. Top each with one-quarter of the pulled pork and caramelized onions and another slice of cheddar. Top with the remaining bread slices, buttered-side up.
Heat a large skillet or griddle over medium-low heat. Working in batches, cook the sandwiches until the cheese melts and the bread is golden, about 5 minutes per side.
This post linked to