With the warm and sunny weather, I've been trying to cook with fresher, lighter ingredients. Nothing screams Spring, or Summer to me like fresh herbs and citrus. I was totally excited to find this easy, yet delicious recipe on the Eating Well website. It involves two of my favorite flavors; lemon and dill.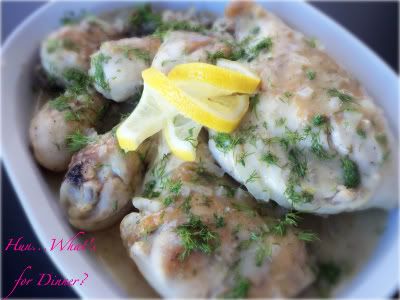 This chicken was wonderful. The sauce was creamy, without the use of cream. Tart, salty with a nice dill flavor. I served this over rice, which I'd cooked with chopped broccoli and butter. The rice soaked up the sauce, becoming a wonderful side dish. The kids went wild over this. They've recently found a love for anything lemon. Even fresh lemon slices can't make it past them, without being eaten, LOL. This is truely a wonderful Spring like dish!
Lemon and Dill Chicken
Adapted from EatingWell
printable version
4 boneless, skinless chicken breasts, (1-1 1/4 pounds)
Salt & freshly ground pepper, to taste
3 teaspoons extra-virgin olive oil, or canola oil, divided
1/4 cup finely chopped onion
3 cloves garlic, minced
1 cup reduced-sodium chicken broth
2 teaspoons flour
2 tablespoons chopped fresh dill, divided
1 tablespoon lemon juice
Season chicken breasts on both sides with salt and pepper. Heat 1 1/2 teaspoons oil in a large heavy skillet over medium-high heat. Add the chicken and sear until well browned on both sides, about 3 minutes per side. Transfer chicken to a plate and tent with foil.
Reduce heat to medium. Add the remaining 1 1/2 teaspoons oil to the pan. Add onion and garlic and cook, stirring, for 1 minute. Whisk broth, flour, 1 tablespoon dill and lemon juice in a measuring cup and add to pan. Cook, whisking, until slightly thickened, about 3 minutes.
Return the chicken and any accumulated juices to the pan; reduce heat to low and simmer until the chicken is cooked through, about 4 minutes. Transfer the chicken to a warmed platter. Season sauce with salt and pepper and spoon over the chicken. Garnish with the remaining 1 tablespoon chopped fresh dill.
Nutrition
Per serving : 173 Calories; 6 g Fat; 1 g Sat; 4 g Mono; 64 mg Cholesterol; 3 g Carbohydrates; 24 g Protein; 0 g Fiber; 236 mg Sodium; 219 mg Potassium
This post linked to