Happy Monday! Hope everyone had as great a weekend as we did. Saturday turned out to be just gorgeous, weather wise. The kids and I took advantage of it and spent the morning at the park with our neighbors. Then after lunch, we indulged in the first ice creams of the year, from the ice cream truck. We ended our day by grilling out and snuggling on the couch to watch our new favorite movie, Tangled.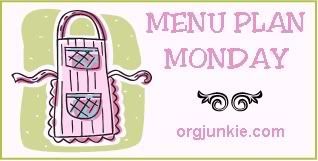 This week is going to be a bit hectic. We have a few appointments and I have a project in the works, so that will keep me occupied in the kitchen. We didn't really stick to the menu last week, so I'll be rolling over some meals this week. Once again, I'll be using whatever I have in the freezer/pantry.
Rosemary chicken, with mashed citrus sweet potatoes(new recipe) and broccoli
Spaghetti and meatballs, with garlic bread and a salad
Mac'n'Cheese (boxed) with hot dogs and peas
Orange Balsamic Glazed Chicken (new recipe) with cheese and bacon biscuits (new recipe)
Country Beef Dinner (new recipe) with homemade rolls
Blueberry waffles with fresh strawberries and melon slices
Leftovers
Head on over to
orgjunkie.com
for more great meal plans!