Happy Monday!! What crazy weather we've had. It snowed off and on all
day, Sunday. With rain and snow all weekend, we had to occupy
ourselves inside. Many forts and movies later, it turned out to be a
pretty nice weekend.
I sure hope this morning is not a precursor to the rest of the week. Hubby messed up the time on our alarm clock, while setting the alarm last night. As a result, we all woke up 45 minutes later than planned. Thankfully the kids were very cooperative this morning and we managed to get ready and out the door, to school, in 40 minutes.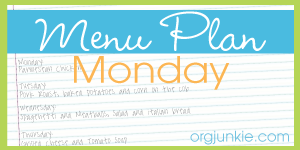 This week will be a typical week for us, except for Wed. I have my 6 month
check up with my Ostomy surgeon, in Toronto. Since Hubby will be off, we'll take
the kids and make a day out of it. Also, Easter is this weekend and Hubby unfortunately has to work. So, it seems that a Holiday lunch is becoming a tradition. Hear is what the tentative plan is
Orange Balsamic glazed chicken (new recipe) with savory scones
Country Beef Dinner (new recipe) with homemade rolls
Ham, mashed potatoes, rolls, Parmesan broccoli (Easter)
Parmesan Shrimp with Parmesan and pea rice
Pierogies with a salad
Out (we'll grab something in Toronto)
Leftovers
Head on over to
OrgJunkie.com
, for tons of other great meal plans!