Happy Easter everyone! I hope all of you had as great of a weekend as we did. Friday was rainy, so we snuggled and watched movies all day. Saturday the weather was a bit better, so after coloring our Easter eggs, he headed to the park. Unfortunately, the wind was a bit too harsh and sand was blowing everywhere. So, we opted for a nice walk around the neighbourhood. Sunday the kids enjoyed hunting for eggs, once they woke up. Then we just vegged and snacked on treats, until Brunch. Hubby had to work all weekend, so we opted for Easter Brunch, so he could join us. It was super delicious!!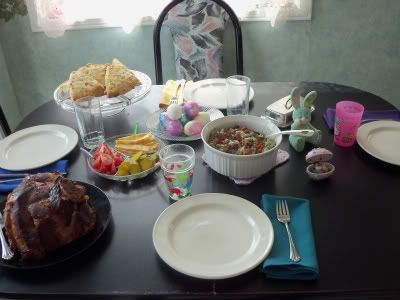 After Brunch, the kids and I attempted another trip to the park, so they could use their new sand toys, courtesy of the Easter Bunny. We stayed at the park until dinner time, and were lucky enough to meet some friends from school, to play with. It truly was a great Easter, even if it was just the 4 of us.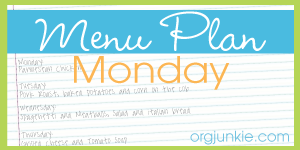 I have a ton of leftover ham, so many dishes for this week, will include some of that. I will also be filming 1 or 2 entree videos for the Real Women of Philadelphia. Hopefully the filming will go off, without a hitch. So here is what I have planned for the week.
Pasta Fagioli soup, with homemade rolls
Ham, Indian Fry bread and green/yellow beans
Parm shrimp with parm and pea rice (brought over from last week)
Roast chicken with mashed potatoes and butternut squash
Philly entree (it's a secret until submitted) with garlic bread and salad
Pancakes with fresh berries and melon
Leftovers
Head on over to
OrgJunkie.com
, for more great meal plans!