Happy Monday! We had a great weekend, with plenty of sunshine and
tolerable temperatures. The kids and I enjoyed plenty of time outdoors
and made our first trip to the park.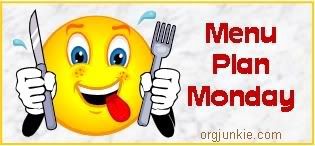 The next few weeks, I'll be doing a freezer/pantry challenge. We really need to
get our bills paid, from Christmas, so I will only be buying fresh
produce, milk and eggs. The rest of our meals will come from the
freezer and what we have on hand in the pantry. I must say, it'll
still be some pretty good eats. In no particular order
PW Sour Cream Noodle Bake (new recipe) and a salad
Grilled mac & cheese with pulled pork sandwiches (new recipes) and sweet potato fries
Parmesan shrimp with pea and Parm rice
Waffles and fruit salad
Corn dogs, fries and broccoli
Ribs, baked potatoes and bean salad
Leftovers
Head on over to
OrgJunkie.com
for more great meal plans!