I've recently found a great site, via Facebook, for great recipes using General Mills products. Some of you may have heard about
General Mills Life Made Delicious
, from my friend Brenda, over at Brenda's Canadian Kitchen. It really is a great site to look for simple, yummy and healthy recipes. I've been browsing it for snack ideas for the kids and we've enjoyed many recipes I've found. This is one of them.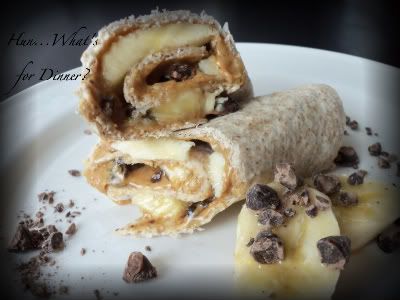 When it comes to snack time, I'm pretty picky as to what the kids get. I don't mind an indulgent snack here or there, but prefer that they don't fill up with empty calorie snack. You can add fun ingredients to healthy food, to make it more treat like, as is done with this recipe. Adding chocolate chips to the mix, excites the kids to want and try these healthy wraps. And who can resist the combination of peanut butter, bananas and chocolate?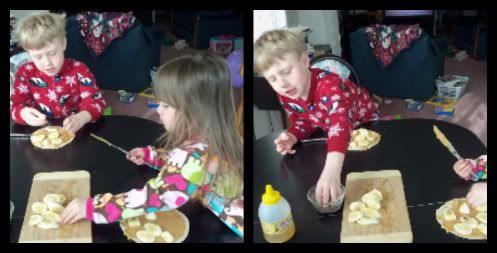 The kids always love when snack time allows them to creat their own snacks. They proudly spread, mix, stir and are super anxious to eat their creations. The crunchy peanut butter and chocolate chips added great texture to the soft bananas. This was a total hit with the kids and let's face it, with me too!
Peanut Butter and Banana Wraps
Adapted from GM Life Made Delicious
printable version
1/2 cup (125 mL) creamy peanut butter or soynut butter
1/2 pkg (8 large) Old El Paso* Flour Tortillas
1/4 cup (50 mL) honey
2 small bananas, sliced
1/4 cup (50 mL) miniature semisweet chocolate chips, optional
Spread 2 tablespoons of the peanut butter evenly over each tortilla. Drizzle 1 tablespoon of the honey over each tortilla. Top with banana slices and chocolate chips.
Roll up tortillas. Secure with toothpicks
Cindy's notes:
We used whole wheat tortillas and regular sized chcolate chips, which I had chopped.