Sorry I haven't been posting as much this past week. I've decided to join the
Real Women of Philadelphia
contest and was busy creating and testing recipes. I was a bit disappointed that I was unable to post my first video, due to using the wrong type of camera, for my movie maker software. I'd re shoot it, but have been afflicted with laryngitis, just to make things that much more frustrating. So, I've decided to rest up, file my recipe away for week 5 of the contest and focus on developing a side dish recipe sure to knock their socks off! Now onto scones...
I found this wonderful recipe over on the
King Arthur Flour
website. I was looking for something yummy, to pair with soup and this recipe caught my eye. I love that it uses ingredients found in most kitchens. And cheese.... well we all know how my family feels about that, LOL. Scones may seem very intimidating, but are quite very simple to make. The dough comes together in just a few minutes and they don't really have to be perfectly shaped. I like rustic looking scones, which is good, since I seem to have an ongoing issue about making a perfect circle, LOL.
These were really delicious. Light and pillowy soft; studded with nice sharp salty cheddar and slightly sweet green onion. I would have liked to taste the Dijon a bit more, so I think I'll be playing around with these in the future. The perfect dipper, as my family like to call them.
Scallion Cheddar Scones
Adapted from King Arthur Flour
printable version
2 cups King Arthur Unbleached All-Purpose Flour or Round Table Pastry Flour
1/2 teaspoon salt
1 tablespoon granulated sugar
1 tablespoon baking powder
6 tablespoons cold butter, cut into pieces
2 large eggs, beaten
1/3 cup cream or sour cream
1 tablespoon Dijon mustard
1 cup (4 oz.) grated sharp Cheddar cheese
3 scallions, chopped
Preheat the oven to 375°F. Sift together the flour, salt, sugar, and baking powder. Rub in the butter with your fingers.
Mix together the eggs, cream, and mustard. Add this to the dry ingredients. Stir in the grated cheese and the scallions. Mix just until combined. This is the consistency of drop-cookie dough.
Liberally flour the counter and your hands. Pat the dough into a 1-inch-thick rectangle. Cut into 10 triangular scones. Place on a well-greased cookie sheet.
Bake for 20 minutes, or until nicely browned and a cake tester inserted into a scone comes out dry. Yield: Ten scones.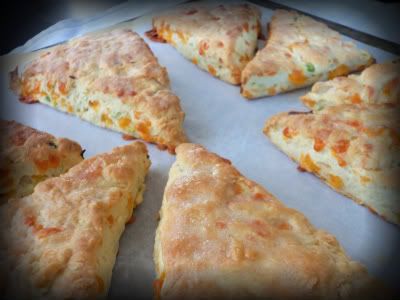 This post linked to