Shrimp. Little pink gems of sweet and briny goodness. The more I eat shrimp, the more I'm liking it. And do I dare say it??? Craving it. So when I saw this recipe, floating around on Cooking for Your Family, I decided we should try it. Hubby loves shrimp and we all love tacos, so why not. Plus the sauce has cumin in it. One of the new spices I've fallen in love with. I just love the lemony earthiness it gives a dish.
These were super simple to make. I deterred from the recipe, since I sauteed the shrimp, rather than grill it. I've yet to be able to locate our BBQ skewers, since moving here 2 yrs ago..... So, sauteing seemed to be the best route to go. The shrimp was tender, the sauce added a nice citrus flavor, while the tomatillo salsa was tangy. Hubby was a bit apprehensive when he saw me chopping the cabbage. This man loathes cabbage. OK, that's a bit much, but the only way he will eat cabbage is in coleslaw or sour kraut. When he asked if I was planning on making a slaw for our tacos, I replied that I was not, and that he would just have to suck it up and eat the cabbage as I intended him to. You know what?? He did and he enjoyed it. Not one complaint left his mouth. I'm so proud of him, LOL. Baby steps....baby steps....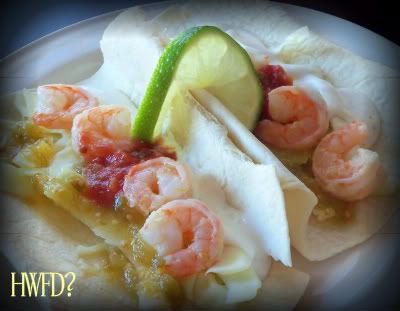 Grilled Shrimp Tacos
Submitted by Lou from Real Simple, Meals Made Easy
printable version
1/2 c. sour cream
3 T. mayonnaise
3 T. milk
1/2 tsp. ground cumin
3 T. unsalted butter, melted
2 cloves garlic, finely chopped
1-1/2 lbs. large shrimp, peeled and deveined
4 limes, quartered
1/2 tsp. kosher salt
8 6-inch corn tortillas
3 c. shredded cabbage
14 - 16 oz. jar green (tomatillo) salsa or pico de gallo
In a small bowl, whisk together the sour cream, mayonnaise, milk, and cumin; set aside. In a separate bowl, combine the butter and garlic. Heat a grill or broiler.
Rinse the shrimp and pat them dry with paper towels. Place the shrimp and lime wedges on the skewers. Brush the shrimp with the garlic butter. Grill or broil until the shrimp are cooked through and the limes are browned, about 3 minutes per side. Season the shrimp with the salt. Transfer to a plate.
Grill or broil the tortillas until warmed, about 30 seconds per side. Places them between clean towels to keep warm.
To serve, remove the shrimp from the skewers, divide them evenly among the tortillas, and top each with the cabbage, sour cream mixture, and salsa (or pico). Serve the lime wedges on the side.
Number of servings: 4-6
Cindy's notes:
I sauteed the shrimp in the garlic butter, squeezing in some lime juice while they were cooking. We also served ours with regular salsa, for an extra bite. The sauce does make quite a bit, but it's great is chicken salad!!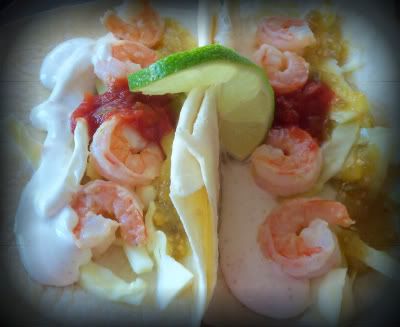 This post linked to