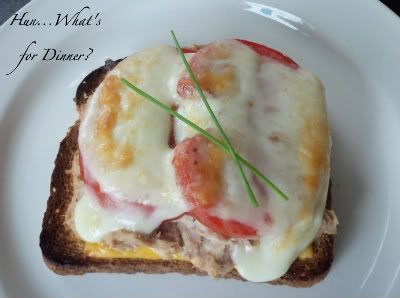 As much as I like tuna fish sandwiches, I've never had a tuna melt. I always thought they were similar to creamed tuna, so never was really interested. The other day, while discussing lunch, Hubby suggested making some. So, I decided to look into it and was pleasantly surprised that they are basically open faced, tuna sandwiches with cheese; heated in the oven. Sounded super yummy to me.
I used our usual tuna salad recipe and added some tomato, American and Jack cheeses. Really Yummy!! The tuna paired so nicely with the cheeses and slightly warm tomato. I loved the crunch of the bread as well. Hubby was extremely pleased with the result and we've decided to try it with a nice tart Swiss cheese next time.
Tuna Melts
printable version
2 cans chunk light tuna
3 Tbs Miracle Whip
1 green onion, chopped
1 rib celery, chopped
a few shakes of season salt
pepper
4 large tomato slices
4 slices of American cheese
12 small slices of Monterey Jack cheese
4 thick slices of your favorite sandwich bread (I used Ancient Grain bread)
Preheat oven to broil.
In a bowl mix the tuna, with the Miracle Whip, green onion, celery, seasoned salt and some fresh ground pepper. Place slices of bread in oven, to toast slightly. Remove bread from oven and place one slice of American cheese on each slice of bread. Top each slice with a quarter of the tuna salad. Top the tuna with 1 tomato slice and season with pepper. Place Monterey Jack cheese on top and return the sandwiches to the broiler. Cook until the cheese bubbles slightly.
This post linked to