I've had this recipe for ever, so long I don't even remember where I picked it up from. Last Thursday was Cinqo de Mayo. I had totally forgot about it and addly enough, when preparing a marinade for my chicken, that morning, I went with a tex mex flavor combination. I threw my chicken in a ziptop bag with lime juice, chipotle chili powder, cumin, salt and pepper. I had planned on making these corn cakes/fritters to go along with our grilled chicken. So, I guess subconciously, I did remember it was Cinqo de Mayo.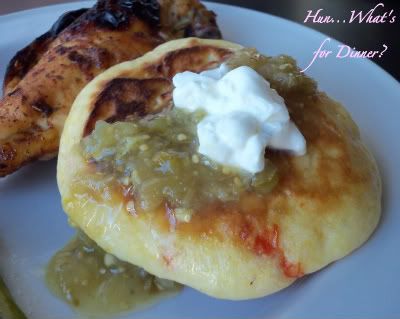 These corn cakes/fritters are so easy to whip up. Think corn pancakes. The original recipe was a little blah, so I jazzed our up a bit, by substituting some of the flour, for corn meal and adding some roast red pepper to them. I served them with some tomatillo salsa and sour cream.
I would have loved more corn in these, so next time I'll add more. The red pepper added a much needed spicy/sweet touch to them, that went perfectly with the tart tomatillo salsa and creamy sour cream. The kids really loved these and I have to confess that we ate the whole batch, LOL. The recipe made about 10, so we didn't have to worry about leftovers.
Easy Corn Fritters
printable version
1/3 cup frozen or canned corn
2 medium eggs
1/4 cup milk
1/2 teaspoon salt
1/2 cup flour
1/2 cup corn meal
1 teaspoon baking powder
1 teaspoon sugar
1/2 roasted red pepper, chopped
oil for frying
In a medium sized bowl combine milk and the eggs. Use a whisk to beat them smooth. Add the salt, corn meal, flour, baking powder and sugar. Mix really well, until there are no lumps. Add the drained corn and roasted red pepper; mix again. Heat about 2 tablespoons of oil in a large iron skillet over medium high heat. When hot, it's time to drop in the fritters. I drop about 1/4 of a cup of batter for each fritter, cooking about 3 or 4 together in the same pan. Fry them just like pancakes, turning them, after the under side is crispy brown. They cook a little slower than pancakes, because they are thicker. After they have browned on both sides, transfer them to a plate to keep warm. Add more oil to the pan as necessary. This recipe makes about 8 or 9 fritters.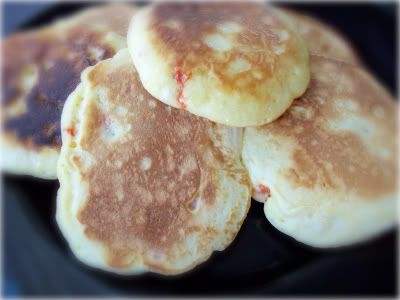 This post linked to