Dill flavoured cream cheese brings this homemade Tartar Sauce to a new level.
First I'd like to apologize for my lack of posting lately. With my Mom visiting and this whole RWOP contest, life has been pretty hectic. You never think it would take as much time as it does, to shoot a cooking video. Next week is the last week, so I'm hoping to get back on track with recipes.
While my parents were visiting, this past week, we decided to have a fish fry. We fried up some wonderful
Beer Battered Haddock
and made some homemade fries and sauteed veggies. It was one of the best meals I've ever had, and I'm sure sharing it with my parents had a big part in making it so great.
For many, a fish dinner is not complete without Tartar Sauce. We usually buy ours, but on occasion I make it. Over the years my recipe has been altered, getting better and better. I think I may have mastered it, with the help of Dill PHILADELPHIA Cream Cheese. The tangy dill just brings the tartar sauce to a whole new level. It's creamy, savory and sweet all in one. Perfect for fish!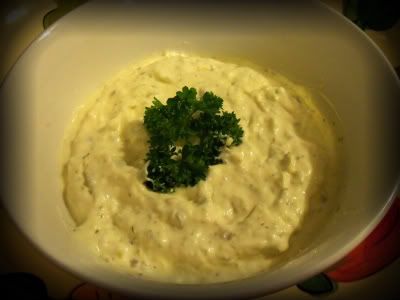 Homemade Tartar Sauce
4 oz Dill PHILADELPHIA Cream Cheese, softened
1/4 C mayonnaise
4 sweet pickles, finely grated
juice and zest of 1/2 lemon
1 tsp capers, chopped
Thoroughly mix everything into a bowl and refrigerate 1 hr, before using. Serve with your favorite fried fish.