Happy Monday! I sure hope this week is better than this past weekend. First the hot water tap in the tub busted, so we are unable to turn it off. Rather than pay double for the plumber to come on the weekend, the landlord decided it could wait until this morning. So we've been functioning without hot water, all weekend. We turn it on for showers, but otherwise it's off. Then I messed up our computer somehow. DH still hasn't been able to fix it.... so I'm stealing my nephews laptop, any chance I get. So if I don't post as often this week, you'll know why.
Other than that it was on OK weekend. It rained Friday and yesterday, so we spent the days watching movies and trying not to drive each other crazy. Though is was cooler, on Sunday, the rain held off, so we enjoyed a few hours outside with the neighbours.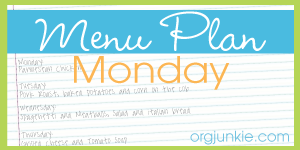 This week should be somewhat quiet. My Mom is suppose to come for a visit, though I'm not sure of the date of her arrival. I have an appt on Wed morning and MrB. has a long school week. I don't have anything fancy planned on the menu, but the sides will be featuring Philly cream cheese, since it's side dish week over at
RWOP.
So here is the plan
Grilled chicken breast with pasta (Philly side) and a salad
Saucy mozzarella patties with pasta and peas
Chickpea Ratatouille with Naan bread
Tuna Melts with tomato cucumber salad
Crab Cakes (new recipe) with asparagus (Philly side)
Grilled sausage with coleslaw
leftovers