Wow, we are almost halfway through the year! I can't believe how fast time is flying. I just wish the weather would make up it's mind, as to it being Spring already. We get teased with a few nice days, then wake up to dismal dreary cold temperatures. It's getting pretty tiring! Mr.B was able to enjoy the one beautiful day we had on Saturday. He was invited to a classmates birthday party, and the weather was perfect for it. He had a ton of fun. Since Queenie was feeling left out, we did a mommy/daughter park outing and came home to enjoy some freezee pops.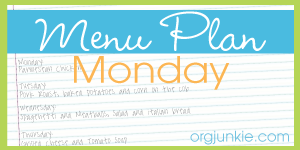 This week will be a nice quiet one. It's dessert week, for the Philly competition, so I'll be baking up a storm, trying to impress the judges. Other than that, not much is on the agenda. Hubby is off this weekend ( yay he will be home for Mother's Day), so I'm hoping to maybe talk him into exploring the bluffs nearby, with me and the kids. I'm not sure if he has anything planned for this weekend, so I'll just treat this week like any other. Here's what is on the menu
Head on over to
OrgJunkie.com
, for other great weekly meal plans!