Happy Monday! I hope all of you are enjoying your long weekend! We are having a great one so far. My Mother has come to stay for a few days and as always, I'm enjoying her company. The weather is just beautiful and the kids have been enjoying a few late nights of watching the fireworks in the neighbourhood.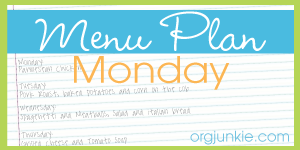 This week is entrée week at the Real Women of Philadelphia, so many of my entrées will include that wonderful Philly, in some way. With Mom being here, we are trying to make some of her favorites, that she doesn't get to eat all that much. We do have a somewhat busy week, with a trip to Toronto with Queenie, for a dermatology appt and dinner out at Boston Pizza, to support Mr.B's school fundraiser. So here is what I have planned
Philly Baked Sole with Parmesan Rice and broccoli
Firehouse Stuffed chicken (Philly-fied) with spinach fettuccine and a tomato cucumber salad
Italian sausages and hot dogs on the grill, with homemade coleslaw
Ratatouille with chickpeas and Naan bread
Tuna Melts with a salad
Deep fried grilled cheese with Potato salad
Leftovers
Head on over to
OrgJunkie.com
, for more great Meal Plans!!