Wow, it's June already. 29 more days of school, then B will be off for the summer. It's a bitter sweet moment for us. Mr.B is graduating from Kindergarten! On one hand I'm happy he will be at school full time, but on the other hand, I hate to see my first baby grow up so fast. This month is sure to just fly by. Hubby has taken a week off, and the plan is to do a few stay-cations. We still need to figure out the details. Then we have the Fun Fair at Mr.B's school, where I am volunteering as the BBQ Pit Boss. And let's not forget my sweet boy's graduation!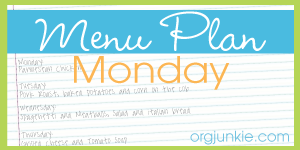 With the consistenly gloomy weather, I've been less than motivated in the kitchen. I'm hoping the weather improves this week and we can get more grilling in. Here is what I have planned, but it's subject to change due to weather conditions.
Spaghetti and meatballs (in crock) with a salad
Grilled chicken sandwiches with homemade coleslaw
BBQ dogs and burgers at the Fun Fair
Gluten and soy free waffles with Apple Pear Compote (new recipe)
Grilled BBQ Chicken Pizza (new recipe) with cucumber tomato salad
Grilled Chops with grilled veggie kabobs (zucchini, peppers, onion)
leftovers
Head on over to
OrgJunkie.com
for more great meal plans, for the week.