When I saw the picture for this recipe, in Rachael Ray's Look & Cook cookbook, I immediately marked the page. The sticky glaze looked so wonderfully inviting; even mouth watering. I took me a while to make this, since life has been so hectic lately and I must say that I'm sorry I waited this long. This recipe is phenomenal! It only uses a few ingredients, which is one reason this has to be my favorite RR cookbook. In the past her recipes were so long and often included many ingredients I don't normally cook with. But this book is a whole different ball game.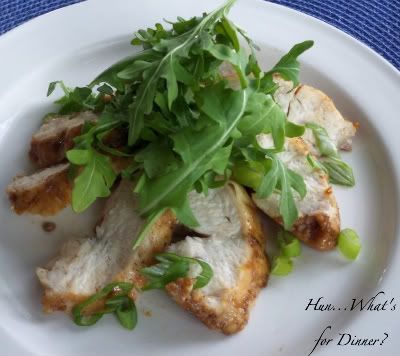 The chicken ends up so juicy and succulent. The wonderful glaze thickens and coats the chicken with a wonderful bitter sweet sauce. The slight onion flavor, from the green onion, just adds a nice bright flavor to the sweet glaze. And the presentation is so pretty! This would really be perfect for a Mother's Day lunch, since it's nice and light.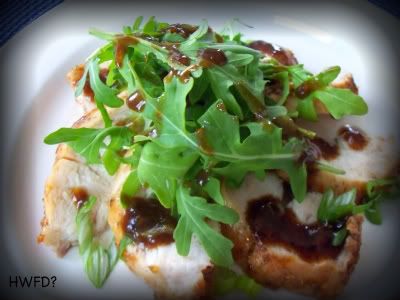 The kids also loved this dish. Although I did serve their arugula topped with their favorite dressing and the chicken on the side. But, whenever Queenie inhales the meat portion on her plate, I know I have a winner on my hands. After the first bite, I decided to drizzle some of the remaining glaze over the arugula. I found it too bitter on it's own, but paired with the chicken, it was perfect! So, treat your Mom to something totally wonderful, this weekend!
Orange-Balsamic Glazed Chicken
Adapted from Rachael Ray Look & Cook
printable version
2 tablespoons extra-virgin olive oil
2 pounds boneless skinless chicken thighs or breasts or any combination of light and dark meat
Salt and freshly ground black pepper
1 teaspoon poultry seasoning
2 to 3 sprigs fresh rosemary, leaves chopped
1/3 cup orange marmalade
1/4 cup balsamic vinegar
1/2 cup chicken stock
2 scallions, whites and greens, finely chopped
4 cups baby arugula
In a large pan, heat the extra-virgin olive oil over medium-high to high heat. Season the chicken liberally with salt, pepper and poultry seasoning. When the oil is hot and ripples, add the chicken and brown for 5 minutes, then turn and sprinkle with rosemary. Cook until the chicken is tender and cooked through, about 5 minutes more.
In a small bowl, stir together the marmalade, vinegar and stock and pour over the chicken. Cook for 2 to 3 minutes or until the sauce has thickened and becomes a thin glaze. Add the scallions during the last minute of cooking time. Arrange on a serving platter and serve topped with arugula greens.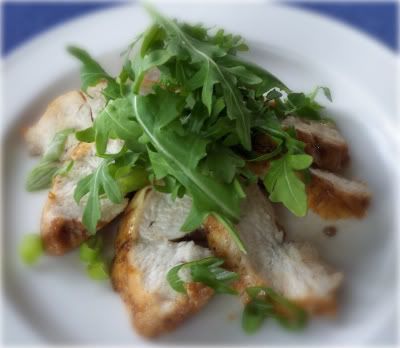 This post linked to