This wonderful appetizer was inspired by the
Pate au Saumon
, that I grew up eating. I decided to re invent these into an appetizer featuring Philadelphia cream cheese, to submit to the
Real Woman of Philadelphia
. I really must say that it was one of my more brilliant ideas, LOL.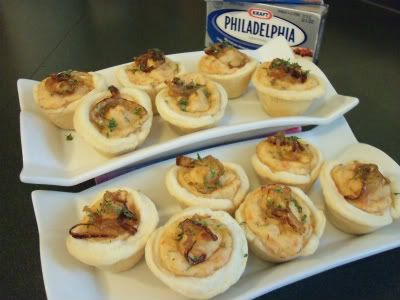 The 2 bite tartlets were brought to a new level with some dill flavored Philly cream cheese and caramelized onion. They were creamy and the sweet onion paired perfectly with the tangy dill cream cheese and salty salmon. So, easy to make, yet they look so elegant. Even Hubby was impressed with the presentation and taste of these.
Petit Pates au Saumon
printable version
1/3 cup(s) of

lard

1 cup(s) of

flour

1 tbsp. of

baking powder

1

egg

1 tsp. of

white vinegar

2

water

2 tbsp. of

olive oil

1/2

large onion, sliced

1 tsp. of

brown sugar

2

medium potatoes, cooked

4 ounce(s) of

Dill PHILADELPHIA Cream Cheese

1 pinch of

salt

2 pinch of

fresh ground pepper

2 tbsp. of

milk

1

-213g can of salmon, juices reserved and boned

2 tbsp. of

cornstarch

2 tbsp. of

water

2 pinch of

dried parsley
Steps
In a bowl combine flour and baking powder. Cut in lard, until mixture resembles coarse meal. In same measuring cup used to measure the flour, break egg; adding vinegar and just enough water to fill the cup. Whisk together and add bit by bit, until a dough forms (not all liquid will be needed). Let dough rest in the fridge.
To a small skillet with olive oil, add onion and brown sugar. Season with salt and pepper. Cook over med low heat, until nice and golden brown.
In a small pot add reserved salmon juices, salmon and 1/4 C water. Cook over medium heat, breaking up the larger pieces, for 3 minutes.Slowly add in cornstarch mixed with 2 Tbs of water; until salmon mixture thickens slightly.
In a bowl mash potatoes with Dill PHILADELPHIA Cream Cheese. Season with salt and pepper and add 2 Tbs of milk, to loosen them up a bit. Mix in thickened salmon mixture, until thoroughly combined.
Roll out chilled dough, to 1/8 inch thick. Cut dough into 24 circles and press each circle into a mini muffin tin.
Place salmon filling into a large zip top bag, or pipping bag. Fill each tartlet, to the top, with salmon filling. Bake in a preheated 350 degree oven, for 15-20 minutes; until dough around the edges begin to brown.
Remove slightly cooled tartlets to a serving platter. Top with a few pieces of caramelized onion and a small sprinkle of parsley. Serve warm or at room temperature.
Serves 12 people, at 2 tartlets per person.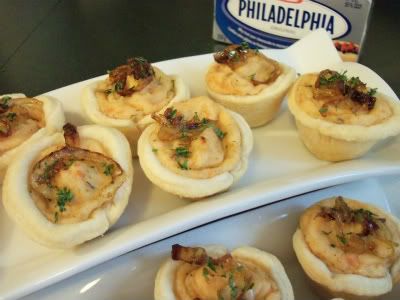 This post linked to