I'm always on the look out for recipes that are out of the norm, for our family. I like trying new flavors from different cultures and knew this one would be a hit, since we love Asian food. Plus, any new pork tenderloin recipe I can find, makes me happy. I loved how simple this recipe was and how it gave the option for freezing. This would be a great freezer meal, for a busy week night.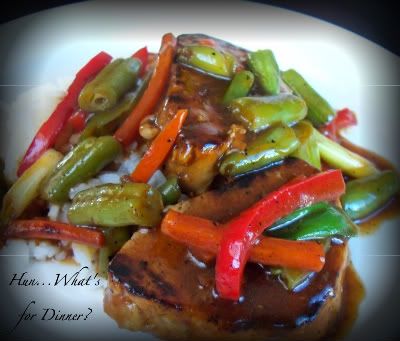 The flavors were wonderful. There was a hint of lime, in the pork and a nice kick of heat, near the end of each bite. I didn't measure the Sriracha sauce that I used, so it was a bit spicier than I anticipated. I made sure to shake off all the sauce, so the kids could enjoy this as well. And the surely did!! I used a combination of carrot, red pepper, onion, green beans and scallion for the veggies. As I mentioned above, I also used Asian hot sauce, for a more authentic taste.
Pork Teriyaki
Adapted from Family Circle Magazine
printable version
2 tablespoons light teriyaki sauce
4 cloves garlic, chopped
Juice and zest of 1 lime
1 pound pork tenderloin
1 can (14.5 ounces) low-sodium chicken broth
3 tablespoons light teriyaki sauce
4 teaspoons cornstarch
1 teaspoon sugar
3/4 teaspoon hot sauce
2 tablespoons vegetable oil
1 large onion, peeled and thinly sliced
1 red pepper, seeded and sliced
8 ounces sliced mushrooms
1 bunch scallions, trimmed and cut into 1-inch pieces
1 bag (12 ounces) microwave-ready green beans, cooked following package instructions
3 cups cups cooked brown rice
1. Pork. In a large ziptop bag, combine teriyaki sauce, garlic, lime juice and zest. Add pork and marinate in refrigerator for 2 hours.
2. Sauce. In a small bowl, combine chicken broth, teriyaki sauce, cornstarch, sugar and hot sauce. Set aside.
3. Vegetables. Remove pork from marinade and discard marinade. Cut pork into 1/2-inch slices. Heat 1 tablespoon oil in a large nonstick skillet over medium-high heat. Stir-fry pork for 3 minutes. Remove from skillet and keep warm.
4. Add remaining tablespoon oil to skillet. Add onion and cook 4 minutes; stir in red pepper, mushrooms and scallions. Cook 3 minutes. Stir in the green beans, broth mixture and pork. Simmer for 2 minutes, until thickened.
5. Serve the pork over cooked brown rice.
TO FREEZE:
In a large ziptop bag, combine teriyaki sauce, garlic, lime juice and zest. Add pork and place bag in freezer, until ready to use. Pull out and let thaw overnight in the fridge and continue on with step 2.
This post linked to
Make a Food"e" Friend Monday
Tuesday Night Supper Club
Delicious Dishes
What's Cooking Wednesday