What do you do when your children ask to go to the Chinese Buffet, almost every night? You try your hand at making some wonderful foods found on the Chinese Buffet. Which is exactly what has been going on in this house. We've had the opportunity to treat our families to a wonderful Chinese Buffet near by, called the Mandarin. Let me tell you, it's quite a place! 5 islands of hot foods, 1 huge salad bar and a fantastic dessert station. They serve everything from pizza, to dumplings; wonton soup, to sushi. No wonder the kids love the place! It's even excites me when we go, LOL.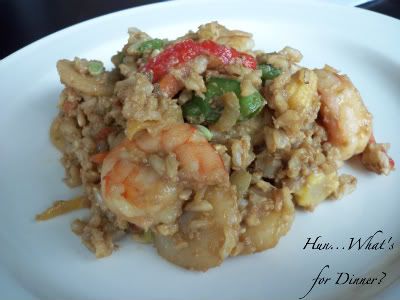 So, after MANY requests to go to the beloved Mandarin, I decided to make something the kids enjoy; here at home. Since we always have shrimp in the freezer, I knew fried rice was the way to go. I wanted something that wasn't too fussy and that was close to what the kids were use to eating. This recipe did not disappoint!
Slightly salty, studded with sweet shrimp. It really was wonderful. And since I was using leftover brown rice, from a previous meal, it came together in the matter of minutes. The only changes I made was use a Zen blend of frozen vegetables (bean sprouts, carrots, red pepper, snow peas, baby corn and water chestnuts), instead of the bean sprouts. I think the added veggies brought a bit more life to the dish. The kids devoured this, especially the shrimp. So now we have a great alternative, when we're in the mood for some Chinese Buffet.
Shrimp Fried Rice II
Adapted from Allrecipes
printable version
1 1/2 cups uncooked white rice
3 cups water
4 tablespoons vegetable oil
1 cup fresh bean sprouts
1/2 cup chopped onion
1 1/2 cups cooked medium shrimp, peeled
and deveined without tail
1/4 cup chopped green onion
2 eggs, beaten
1 teaspoon salt
1/4 teaspoon ground black pepper
4 tablespoons soy sauce
1/4 teaspoon sesame oil
1. In a saucepan bring water to a boil. Add rice and stir. Reduce heat, cover and simmer for 20 minutes. Set aside and allow rice to cool.
2. Heat a large skillet or wok for 2 minutes. When the skillet or wok is hot, pour in vegetable oil, bean sprouts and onions. Mix well and cook for 3 minutes.
3. Mix in cooled rice and shrimp and cook for another 3 minutes. Stirring constantly.
4. Mix in green onions, eggs, salt, pepper, soy sauce and sesame oil. Cook for another 4 minutes, stirring continuously, until eggs are cooked and everything is blended evenly.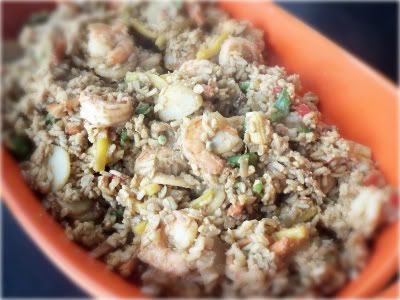 This post linked to