This is a recipe that I've been working on for a few weeks now. My original intention was to make the base brownies and enter this to the Real Women of Philadelphia contest. However, every homemade brownie base I tried, stuck to the pan. Finally I decided to try a white cake base, and it was an amazing success. I made this a few weekends back, when our neighbours came over for a cook out. Everyone ooohed and aaaahed and the neighbours had 2 pieces each! It was the perfect end to a perfect night, with spectacular people.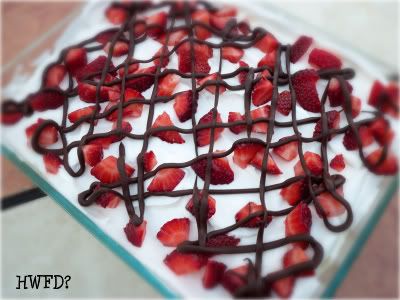 The cake was moist and fluffy. The layers of flavor mimicking a banana split included pineapple, banana, strawberry and chocolate. The fluffy light toppings were wonderful, and not too sweet. We all enjoyed the hint of banana which blended so subtly with the pineapple mousse and whipped cream. This would certainly be amazing with brownies, so now I just have to find a nice cake like brownie batter, that won't stick stubbornly to my pan, LOL.
Banana Split Cake
printable version
1 C sugar
1/2 C butter
2 eggs
2 tsp vanilla
1 3/4 tsp baking powder
1 1/2 C flour
1/2 C milk
1 pkg pineapple cream cheese, softened
4 C heavy cream, whipped to stiff peaks
1/4 C powdered sugar
1/2 tsp vanilla
2 large bananas, sliced
2 C strawberries, sliced
1/4 C 70% cocoa dark chocolate, melted
Preheat oven to 350 degrees. Grease a 9 inch cake pan and evenly coat it with sugar. In a medium bowl, cream sugar and butter. Beat the eggs in, 1 at a time, then add the vanilla. Combine the flour and baking soda and add to the creamed mixture. Mix well. Stir in the milk, until the batter is smooth. Pour into greased cake pan and bake for 30-40 minutes. The cake should spring back when slightly touched. Let cake cool completely.
While cake cools, whip the heavy cream, to soft peaks. Slowly add in the powdered sugar and vanilla and whip to stiff peaks.
In a bowl, beat the pineapple cream cheese, until fluffy. Fold in 1/3 of the whipped cream. Spread the pineapple mousse over the cooled cake. Sprinkle evenly with sliced bananas. Spread remaining whipped cream over the bananas and sprinkle evenly with strawberries. Melt chocolate in a ziptop bag. Snip off a tiny hole in one tip of the bag. Drizzle top of cake with melted chocolate. Refrigerate until ready to serve and refrigerate any leftovers.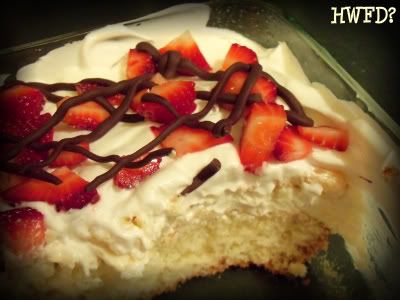 This post linked to