This was one of my final entries for the Real Women of Philadelphia entree week. My nephew is a very big fan of bacon and deep fried foods. So when he pondered out loud wether grilled cheese could be deep fried, it caught my attention. I thought grilled cheese would be great dipped in a beer batter and deep fried. Total bar food; guy food. And since I'm a fan of anything containing cheese and deep fried, I knew this would be right up my alley.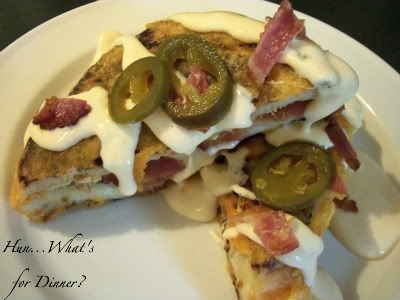 All I can say is that this was awesome. The inside was was melty and the outside was crispy and salty. Perfect combination. The only way I could think of making this better is by adding a nice cheese sauce to dip it in. This was I have to say the best bar type food I've ever made. It was so good, that I now have a secret weapon to bribe the men with, to get them to do me a favor, LOL.
Beer Battered Grilled Cheese
12 slices French bread
1 1/2 cup(s) of flour
1/2 cup(s) of crushed cheese puffs
1 tsp. of paprika
1 1/4 cup(s) of beer
2 cup(s) of Havarti cheese, thinly sliced
8 ounce(s) of Roasted Red PepperPHILADELPHIA Cream Cheese
1 pound(s) of thick cut bacon, cooked
1/2 cup(s) of butter, softened
1 tsp. of minced garlic
5 cup(s) of vegetable oil, for frying
4 ounce(s) of Light PHILADELPHIA Cream Cheese
1/2 cup(s) of milk
1 pinch of each of salt and pepper
1 cup(s) of old Cheddar cheese, shredded
Pour oil into a deep fryer and bring oil to 350 degrees.
In a bowl, combine flour, crushes cheese puffs and paprika. Add in beer and stir well, to make a batter. Set aside.
Spread a generous amount of the Roasted Red PepperPHILADELPHIA Cream Cheese onto 6 slices of bread. Top with 2 strips of bacon and enough cheese slices to cover the whole piece of bread. Top with remaining bread slices.
Mix together butter and garlic. Spread onto tops of sandwiches. Place sandwiches, buttered side down, into a preheated skillet. Spread remaining garlic butter onto tops of sandwiches. When bottoms are golden brown, flip sandwiches, to toast 2nd side.
Take grilled sandwiches and dip into beer batter. Carefully place in hot oil and fry for 2 minutes, on each side. Remove from oil, to a paper towel lined plate.
While sandwiches cool, melt light PHILADELPHIA Cream Cheese into milk, in a sauce pot; over medium heat. Season with salt and pepper. Once light PHILADELPHIA Cream Cheese is melted, remove from heat and stir in old Cheddar, until melted.
Use cheese sauce to dip the Beer Battered Grilled Cheese into.
This post linked to