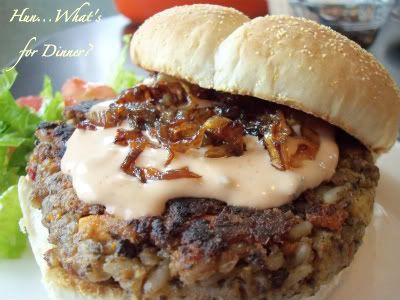 This recipe is actually called
Burger in a Salad with Caramelized Onion, Avocado, Tomatoes and Thousand Island Dressing
. This is another wonderful recipe from celebrity chef Ann Gentry's new cookbook: Vegan Family Meals. We are far from Vegan, but I just love this cookbook. I could go meatless everyday, but I'm not sure Hubby would appreciate that, LOL. So, when I saw this recipe for Black Bean Veggie Burgers, I just had to make them. I've always wanted to find an alternative, for myself, when the rest of the family has beef burgers. I usually end up eating the bun, loaded with lettuce, cheese and tomato. But now that I've found these, I am so excited about burger night!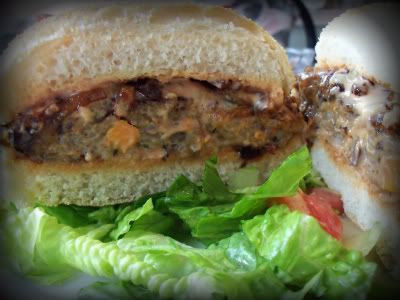 These have wonderful flavor. The cumin adds a nice slightly smoky lemony taste to them. I really love the way half the mixture is pureed, but them you still have some bits of vegetables and rice in there. It gives the burgers a wonderful texture, so that you don't feel like you are eating mush, LOL. Now since we were having burger night, I did not make the entire recipe. I made half the burger recipe, half the caramelized onion and half the dressing recipe. I served a patty on a bun, topped with the onions and dressing and it was pure heaven. The sweet onion and dressing just brought these burgers from good to phenomenal. The sweetness complimented the savory flavors of the beans, carrot and cumin, beautifully. I am so happy to have found an alternative for myself when the rest of the family has burger night!
Even though I only made part of the recipe, I will post the entire recipe. I have plans of trying the whole recipe next week, since the kids will be gone.
Black Bean Veggie Burgers
printable version
3 1/2 Tbs neutral cooking oil, plus more as needed
1 C finely diced onion
4 tsp finely minced garlic
2 C finely diced peeled yams
2/3 C finely diced peeled carrots
1/2 C finely diced celery
2 1/2 tsp fine sea salt
2 tsp finely diced jalapeno chile
2 1/2 tsp ground cumin
1 tsp freshly cracked black pepper
1 tsp paprika
2/3 C fresh corn kernels,or frozen corn kernels, thawed
1/2 C finely diced red bell pepper
1/2 C corn flour (not cormeal)
4 C cooked short-grain brown rice
2 C rinsed and drained canned black beans
1/4 minced fresh parsley
3 Tbs powdered egg replacer
Line a baking sheet with parchment paper.
Heat 1 1/2 Tbs of oil in a large heavy saute pan over medium heat. Add the onion and saute until translucent, about 5 minutes. Add garlic and saute until fragrant, about 30 seconds. Add the yams, carrots and celery. Sprinkle with 1 tsp of salt and saute until vegetables are just tender, about 10 minutes. Add the jalapeno, the remaining 1 1/2 tsp salt, the cumin, black pepper and paprika and cook for 1 minute. Add the corn and bell pepper and saute until they become slightly tender, about 2 minutes.
Transfer the mixture to a large bowl and stir in the corn flour. Add the rice, beans and parsley. Using your hands, mix thoroughly.
Place half the burger mixture into a food processor and pulse until it is finely chopped and slightly mushy. Return the pulsed burger mixture to the remaining burger mixture. Sprinkle the egg replacer over the burger mixture, and using your hands, mix to blend very well.
Heat remaining 2 tablespoons of oil on a flat griddle pan over medium heat. Working in batches and adding more oil as needed for each batch, cook the patties until they are browned on both sides and cooked through, about 3 minutes per side.
Form the burger mixture into twelve 3 1/2-inch patties that are 1/2 to 3/4 inch thick. Place patties on the prepared baking sheet, then cover and refrigerate for at least 2 hours or overnight. Alternatively, you can store them in and airtight container and freeze; thaw before using.
Caramelized Onions
2 Tbs olive oil
2 Tbs vegan butter
3 lbs Spanish onions sliced
1 tsp fine sea salt
1 Tbs mirin
Heat the oil and vegan butter in a large heavy skillet over medium heat. Add the onions and salt. Cook, stirring often, until golden brown, about 1 hr. Add the mirin and cook until the onions are brown, about 15 minutes.
Dressing
1/2 C vegan mayonnaise
1/3 C ketchup
3 Tbs sweet relish
2 Tbs red wine vinegar
1 clove garlic, minced
1 tsp Dijon mustard
3/4 tsp fine sea salt
1/2 tsp paprika
1/4 tsp freshly ground black pepper
Whisk all ingredients in a medium bowl, to blend.
Salad
1 large carrot, peeled
1 medium beet, peeled
6-8 C mixed baby lettuces
fine sea salt and freshly ground black pepper
Cut the carrot and the beet with a mandoline into long, thin curly shoestrings, or use a vegetable peeler to cut them into long shavings. Toss the carrot, beet and mixed baby lettuces in a large bowl with enough dressing to coat lightly. Season the salad to taste with salt and pepper.
To Assemble:
Mound salad in the center of each of 4 plates. Spoon some of the caramelized onions and all of the 1/2 C sliced roasted red peppers over the burger patties and arrange a smothered patty on each plate with the salad. Scatter 1 peeled pitted and diced avocado, 2 ripe tomatoes cut into wedges and Maple Tempeh Bacon, coarsely crumbled; over salad if desired.
Cindy's notes:
I used a regular egg, in place of the egg replacer. I also used regular mayonnaise in the dressing and regular butter for the onions.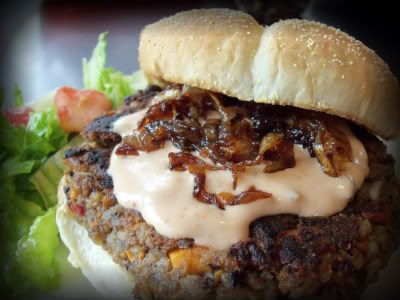 This post linked to