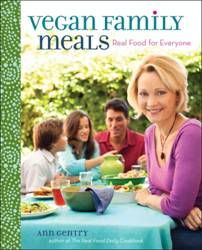 I was recently contacted by
Much and House Public Relations, in regards to being a blog stop for the launch of
"Vegan Family Meals: Real Food For Everyone", a new cookbook from Hollywood's #1 Vegan Chef and owner of chic LA restaurant, Real Food Daily, Ann Gentry.
I was super excited, since I try to make an effort to eat meatless, at least once a week. Not only is it budget friendly, but I am not a big fan of meat. I always say I'd make a great ovo-lacto vegetarian. Vegan-ism goes one step further, as to where it is all plant based foods. I was excited to have new recipes to add to my repertoire.
As part of the blog tour, I was asked to make a recipe from this wonderful cookbook. When I say wonderful, I mean, so different and informative. Ann goes on to talk about being vegan, wonderful plant based foods and their uses in vegan cooking, gluten free foods/products, meat free products, non dairy cheeses and even cooking utensils. She does all this without coming off preachy or as trying to get everyone to eat vegan. She even states "Don't let an all-or-nothing attitude turn you off: It's well worth the effort to consume less meat and dairy even if you don't eliminate it entirely". I really loved learning about ingredients I had never cooked with before, such as sea vegetables, grains, different flours. This is a great way to become more adventurous with food and also getting some "healthful and balanced" meals on your table.
If you'd like to learn more about Ann Gentry, her new cookbook, restaurant and recipes; visit her fabulous blog Real Food Daily. Stay tuned later this week, when I review Ann's Gluten- and Soy-free Waffles with Apple Pear Compote. I promise you will not want to miss it!