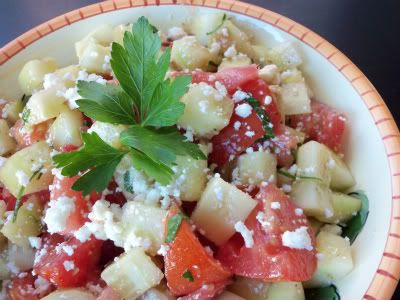 With the nice warm weather finally making an appearance, I've been trying to find more side dishes that do not require cooking. Salads are wonderful, but a bowl full of lettuce and toppings can get a bit redundant. I decided to make a cucumber tomato salad. Both kids love tomatoes and cucumbers, so I was hoping they would love this. I loved the freshness of the salad and how quickly it can come together. I was able to find a package of tomatoes, that only cost $.59. Since they were getting overly ripe, they were marked down. I used the firmest ones, keeping the softer riper ones for pasta sauce.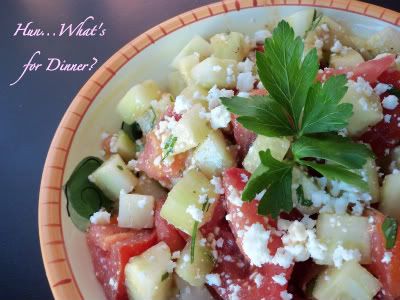 This salad screams summer! If you are a fan of Greek style foods, you will love this. The dressing has some great Greek flavors, but the balsamic vinegar adds a slight sweetness. The salty Feta adds a wonderful layer of tangy salty goodness. This pairs perfectly with some grilled burgers or a nice big steak!
Cucumber Tomato Salad with Feta
printable recipe
1 large english cucumber
3 large tomatoes
2 Tbs balsamic vinegar
3 Tbs olive oil
1/8 tsp oregano
1/8 tsp pepper
2 Tbs crumbled Feta cheese
Peel cucumbers and cut in half, lengthwise. Cut each half into thirds and cut thirds into small cubes. Place in a bowl. Cut tomatoes into 8 wedges. Cut each wedge in half and add to cucumber. In a small bowl, whisk together the balsamic vinegar, olive oil, oregano and pepper. Pour over tomatoes and cucumber, add 1 Tbs Feta and toss lightly, to coat. Sprinkle with remaining Feta and serve.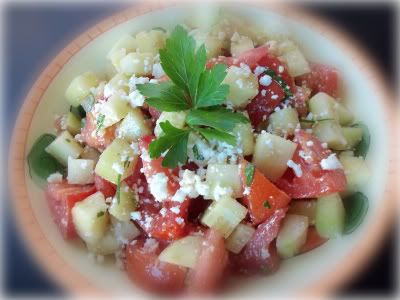 This post linked to